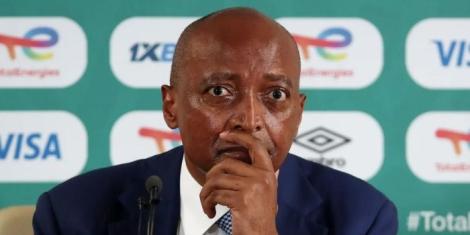 The Confederation of African Football (CAF) stripped Guinea of the hosting rights for the 2025 African Cup of Nations (AFCON). 
CAF expressed its dissatisfaction with the preparedness of the country which suffered a coup in September 2021 and is currently led by military leader Mamady Doumbouya. 
Guinea's political instability in the West African nation is one of the reasons CAF opted to search for another hosting nation. 
Also Read: Clifton Miheso Speaks on Botched Transfer to Ethiopia
"The Executive Committee took a unanimous decision based on the report as submitted that the tournament is withdrawn from Guinea. The President suggested that a delegation be sent to Guinea to inform them of the decision taken by the Executive Committee.  
"It resolved to send a delegation to Guinea to inform them of CAF's decision to withdraw the Africa Cup of Nations, Guinea 2025 from Guinea," part of the statement from CAF read. 
CAF president Patrice Motsepe met with the Guinea Transition President, Colonel Mamadi Doumbouya on September 30 where they discussed the reason for the withdrawal by CAF.
It was noted that Motsepe informed Colonel Mamadi that the infrastructure and facilities in Guinea were not ready to host a world-class AFCON competition.  
However, the African football governing body president confirmed that the country will still host the 2024 CHAN tournament.  
"I visited Guinea today out of respect to the people of Guinea to discuss CAF's willingness to advise and work together with the football stakeholders to construct and build football infrastructure and facilities in this country," CAF President Motsepe noted. 
CAF's Executive Committee will meet in Algeria on Saturday, October 1, 2022, to re-open the bidding process for the AFCON 2025. 
Algeria and Morocco are reported to be the frontrunners to take over from Guinea.
Also Read: John Obi Mikel Retires From Professional Football