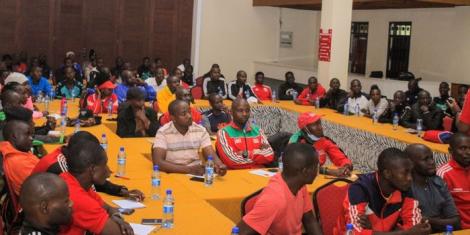 The Football Kenya Federation (FKF) Technical Department on Tuesday, November 22, took match officials through some of the rules ahead of the 2022/2023 Football Kenyan National Super League (FKF NSL). 
In a statement, FKF noted that the purpose of the training is to keep the referees aware of the existing regulations and the Federation's accreditation threshold. The training was facilitated by FKF Head of Technical Michael Amenga.
The training is part of the federation's effort to fully professionalize the FKF leagues. 
"Match commissioners chair pre-match meetings and just as the player cards are checked, so will the coaches' accreditation cards; this is to check whether the coaches are qualified to be in the technical area," Michael Amenga stated ahead of the league slated to kick off on Saturday, November 26. 
Also Read: FIFA World Cup: Referees' New Approach that Allocates Games More Added Time
According to the FKF coaches and their assistants in the Premier League, National Super League, Women Premier League and Division One must have attained a CAF C license to access the technical area. 
For clubs that qualify for the CAF Confederation Cup and the CAF Champions League, the head coach must have a CAF A license and the assistant coach a CAF B license to access the technical area. 
The match officials were also trained to be on the lookout and advised to check on coaches' accreditation cards during a match. 
"During the games, center referees monitor all match happenings including the technical area; if one of the coaches acts poorly, he/she will issue a red card and highlight it in their match report along with the coach's accreditation card number, to help us identify the coach and take appropriate disciplinary action against them," Amenga added. 
The regulations are part of FKF's efforts to professionalize the league in line with international standards set by the Confederation of African Football (CAF) and the World Governing Body FIFA.