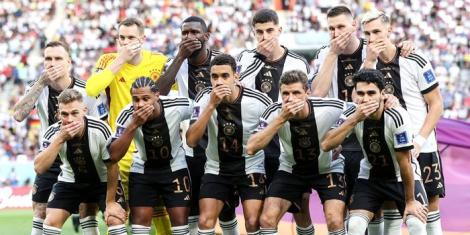 The German national team covered their mouths and wore rainbow stripes on their shirts and boots in a bid to protest against the FIFA rule, minutes before their World Cup match against Japan on Wednesday, November 23.
In a statement, the German Football Association explained the gesture was an act of protest against FIFA for denying them to speak. 
Germany was one of seven nations banned by FIFA from wearing the one Love armband, upon which the teams would face sports sanctions if they defied the rule. 
German Federal Minister of the Interior and Community Nancy Faeser also joined the protest. 
Also Read: Controversial African Referee to Officiate first World Cup Match
"With our captain's armband, we wanted to set an example for values that we live in the national team: diversity and mutual respect. Be loud together with other nations. This is not about a political message: human rights are non-negotiable.  
"That should go without saying. Unfortunately, it still is not. That is why this message is so important to us. Banning us from the bandage is like banning our mouths. Our stance stands," the statement read. 
Germany went on to lose the match which they led during the first half after Japan's duo of Ritsu Doan and Takuma Asano led the team's comeback. 
Germany scored through IIkay Gundogan's first-half penalty as Japan's, Ritsu and Asano scored in the 74 and 83 minutes. 
Germany's next match will be against Spain on Sunday, November 27. 
Also Read: Herve Renard: Saudi Arabia Coach Who Made History in Qatar