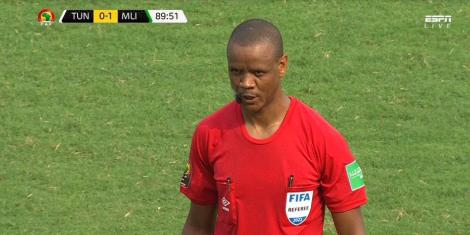 Zambian referee Janny Sikazwe will be officiating his first match at the FIFA World Cup Qatar 2022 on Wednesday night, November 23. 
The official will be the central referee during the clash between Belgium and Canada at the Ahmad Bin Ali Stadium. 
Sizakwe hit the headlines in January 2022, after he ended an African Cup of Nations (AFCON) match between Tunisia and Mali on two separate occasions.
Also Read: Herve Renard: Saudi Arabia Coach Who Made History in Qatar
FIFA picked the Zambian as an official for the 2022 tournament making it his second World Cup call-up. 
His blunder at the AFCON tournament was when he blew the final whistle at minute 85 and then resumed the match before he again ended the match prematurely with 17 seconds to go. 
The match ended 1-0 in favour of Mali with complaints from Tunisia's players and coaching staff, who were attempting to overturn the narrow deficit. 
After the match, he was taken to hospital where it was established that he was suffering from heatstroke and severe dehydration. 
"I was lucky I didn't go into a coma. It would have been a very different story. The doctors told me my body was not cooling down.  
"I think God told me to end the match. He saved me," Sizakwe added. 
Hopefully, the match official does not suffer from the same condition he went through in Cameroon, with Qatar's hot weather.
Also Read: AFCON Reveals Why Controversial Referee Ended Match Before Time