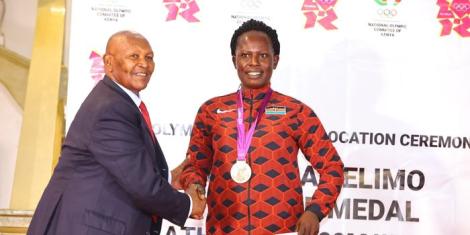 Pamela Jelimo, the first Kenyan woman to win an Olympic medal, on Wednesday, December 7, 2022, advised local athletes to shun doping if they want to succeed.
Speaking at the Nairobi National Museum, during her medal award ceremony, Jelimo pleaded with runners to run clean.
"It is a great honor to be given this medal. You should not be coerced. Run clean and you will achieve your best.
Also Read: Pamela Jelimo to Receive Olympic Medal After 10 Years
"So please, let's advocate for a doping-free country. Let athletes run to the best of their abilities. That is my position," she ended.
Jelimo was awarded a bronze medal from the 2012 London Olympic Games after the disqualification of Russian athlete Mariya Savinova.
Savinova was disentitled by the International Olympic Committee (IOC) after she was found guilty of using performance-enhancing substances.
In that famous race, Jelimo registered a fourth-place finish behind two Russian athletes and South Africa's Caster Semenya.
After Savinova's disqualification, Semenya who finished second was awarded the gold medal while Ekaterina Poistogova, another Russian athlete at the event, received the silver medal.
Other athletes who were awarded during the ceremony include Janet Jepkosgei Busenei and Hellen Obiri.
Obiri and Jepkosgei were each given diploma certificates for finishing 6th and 8th in their respective disciplines at the London games.
Four of the runners Obiri competed against in the 5,000m race in London were disqualified due to doping-related offenses. 
The cabinet secretary for Sports Ababu Namwamba, National Olympic Committee of Kenya (NOCK) President Paul Tergat, and IOC honorary member Kipchoge Keino were in attendance.
Also Read: Pamela Jelimo: Story of First Woman To Win Kenya Olympic Gold