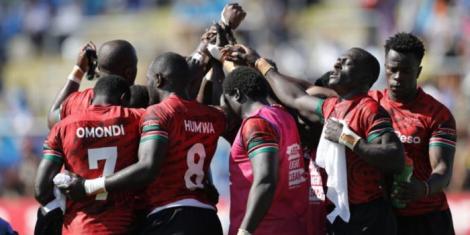 Shujaa extended their poor run in the HSBC World Rugby Sevens Series, losing all Pool A matches at the Hamilton Sevens. 
The national men's rugby sevens side lost against Samoa (5-26), Fiji (7-21), and France (21-26),  
Shujaa will play Canada next in the ninth-place quarter-finals on Saturday, January 21, at 11:30 pm EAT.
Also Read: Shujaa Face Uphill Task at the Hamilton 7S
Kenya has had a rough start to the season and is on the brink of relegation as the national team is positioned 14th. 
Coming to Hamilton, the team finished 13th in Cape Town, Shujaa having picked up only three points.  
Shujaa is yet to register a win this season in the group stages. 
According to the new series relegation format, the 15th-ranked team will be relegated after the 10th round in Toulouse, France. 
Teams ranked 12th, 13th and 14th will play in a four-team relegation playoff. The fourth team in the play-off will win the Challenger Series 2023, positioned 11th in the final round in London.  
The relegation play-off will be a round-robin format with the top two teams then playing a final with the winner will become the 12th core team in the 2024 Series. 
As for the other three teams, they will enter their respective Regional Sevens Championships to book themselves a place at the 2024 World Rugby Sevens Challenger Series.
Also Read: Govt Issues Two Orders to Kenya Rugby Union