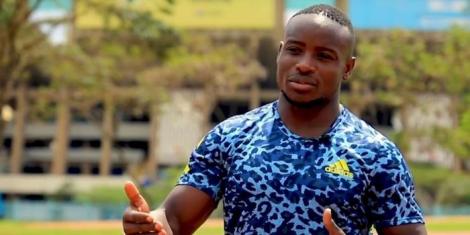 100m athlete Ferdinand Omanyala revealed that he takes three plates of rice as his lunch before going for his afternoon training. 
Speaking during an interview on NTV on Monday night, January 23, Omanayala disclosed his dietary plan while training for a race. 
"I always have snacks at 10 pm and 4 pm, those are two meals and the normal three meals making it five meals a day," Omanyala indicated. 
Also Read: Kipchoge, Kipyegon Bag Sports Personality of the Year Awards
Omanyala noted that his breakfast entails five eggs, groundnuts, and milk. 
"Lunch basically is three plates of rice and that's a snack because we have to go to training at 3:00 pm and have to mix with either minced meat or different types of beans. 
"I have a nutritionist; she programmes and writes everything. Sometimes she comes over at home and cooks together with my wife and prepares food for the next week,' Omanyala added. 
He also disclosed that he has a 'cheat day', one day a week, where he takes other types of foodstuffs, like buggers or Pizza. 
The fastest man in Africa noted that what he avoids most in his meals is food that is high in cholesterol. 
On how he avoids doping despite taking supplements, Omanyala noted that he has a Memorandum of Understanding (MoU) with a certain company to ensure whatever he takes is in alignment with the doping rules. 
Omanyala added that he is always cautious when he attends events and he is offered drinks and meals. 
"Personally I do not eat where they bring food to me with a single plate, if it's a buffet that's fine," he disclosed.
Also Read: Kipchoge, Kipyegon Bag Sports Personality of the Year Awards