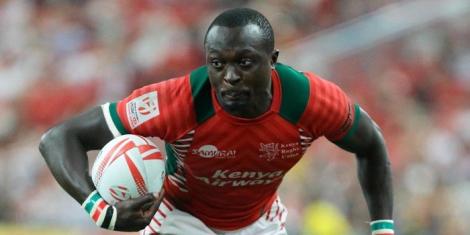 Collins Injera, who is arguably the greatest player to ever don Shujaa jersey, announced his retirement on Tuesday, January 24, 2023.
He will be missed and remembered in many ways, including creating many beautiful moments and setting records.
Among those moments is the camera incident that happened in May 2015 at the London 7s.
Also Read: Shujaa Veteran Collins Injera Retires
Injera entered the field that day a well-prepared man because he believed something special awaited him at the Twickenham Stadium.
He was a try away from hitting the 200 mark and cementing his place as the third player with the most tries in the history of the World Rugby 7s Series.
When the Vihiga High School alumni received the ball in the middle of the pitch, he tricked two Japanese players before sprinting to the touchline to score his 200th try.  
To celebrate his incredible achievement, the 36-year-old removed a maker pen from one of his socks and signed the match ball as the commentators showered him with praises. 
He then used the same permanent marker pen to sign the lens of a camera belonging to a photographer who was covering the match.
His action ended up damaging an expensive camera with an estimated cost of approximately Ksh9 million(GBP60,000). 
World Rugby issued a statement after the incident stating that Injera's action left the photographer unimpressed. 
Three days later, the father of two retweeted a post from a user called G Money who had made a comment on social media about the camera.
"Did someone tweet that the 60k GBP camera that Collins Injera signed would now fetch 10 times as much at auction?" read G Money's statement then.