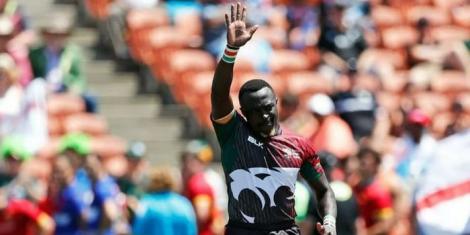 Legendary rugby player Collins Injera hung his boots on Tuesday morning, January 24, 2023.
Injera, who has scored the second most tries in the World Rugby 7s series, announced his retirement through a statement shared on his social media account.
The Daystar University alumni stated that he reached the decision after listening to his body.
Also Read: Injera Retires from International Rugby 
"Everything must come to an end, sometime. I have always said that I will know it's time because my body will tell me. And for the past few months, it has really 'spoken' to me so, finally, I have decided to listen to it," 
"As hard as this is for me, after 17 years of literal blood, sweat and tears, it's time to step away from this great game that has given me so much more than I could ever ask for," part of the statement read.
The 36-year-old further thanked his family for the unconditional support they gave him throughout his impressive career.
"Those days, weeks, and sometimes months that you have endured without my presence as I was busy chasing my dream across the globe are finally over," Injera stated. 
He revealed that he will now focus on spending much-needed quality time with his family who has stood with him with prayers, advice, and support. 
"My brothers, Tall and Mike, we did it! We managed to play together both locally and internationally," he continued.
Moreover, the former Mwamba RFC star thanked the people he interacted with at both the club and national levels for being there for him in good and trying moments.
"We have shared some very high and low moments together. Thank you for being part of my journey and helping me achieve my dreams," stated Injera.
In his ending remarks, Injera who scooped the man of the match award during the historic Singapore 7s final in 2016, disclosed that he would venture into humanitarian work.
"For my next chapter, I will continue with my humanitarian work and will be joining global satellite business (and UN Sustainable Development Goals Quality Education Partner), Avanti Communications, in an exciting new role to support its East African operations," ended Injera.