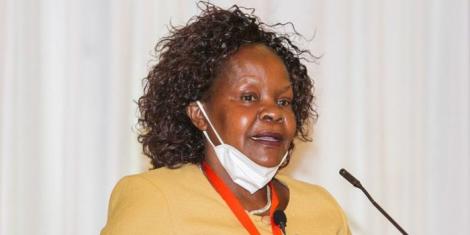 Administration Police Bomet, and Fortune Sacco have been suspended and relegated from the National Super League (NSL) to the Division One League by the Football Kenya Federation (FKF).
The announcement was made via a press release signed by the acting FKF president Doris Petra. 
"We wish to inform you that APS Bomet FC has been suspended from the FKF National Super League 2022/2023 season and relegated to the FKF Men Division one League 2023/2024 season," read part of the statement from the FKF.
Also Read: Uganda Police Advise Arsenal Fans on How to Celebrate After Arrest
According to the federation, the decision was made based on the 2019 rules and regulations governing the running of football in the country. 
Article 3.1.6 of the regulations allows FKF to impose sanctions such as the one taken on Thursday, January 26, 2023.
"In the event that a team or both teams in a scheduled fixture fails to turn up or turn(s) up for the match but refuse(s) to play, either team or both shall be docked three (3) points and two (2) goals from those already accumulated or those to be accumulated. 
"Additional sanctions may be imposed on the team(s)," the article stated. 
Dimba Patriots, Mayenje Santos, and Kona Rangers were also relegated from Division One to the Division Two League.
The federation further added that they understand the financial constraints that the clubs are facing. 
However, it urged the affected clubs to honour their upcoming fixtures to avoid further sanctions.
Also Read: Kisumu All Stars Risk Walkovers As Financial Woes Deepen