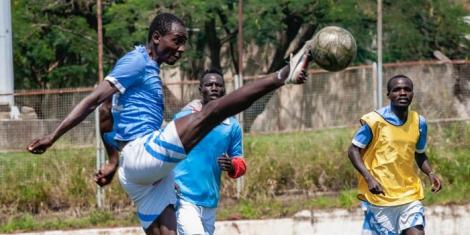 Football Kenya National Super League side Kisumu All Stars took to its social to plead for funds to bolster its hopes of getting promoted to the Football Kenya Federation Premier League (FKF-PL). 
This is after both county and national governments failed to disburse funds to the team that is currently positioned 10th in the league table. 
Through a statement on its Facebook page on Wednesday, January 25, the second-tier club appealed to its supporters and well-wishers for help to travel to Mombasa where it is set to take on Modern Coast Rangers.
Also Read: New Twist As FKF Blocks AFC Leopards From Livestreaming Matches
"This is a polite request to our supporters and friends of Kisumu, friends of Kisumu All Stars, and well-wishers to help us honor our match in Mombasa on Saturday 28.
"Since the beginning of the season, we have faced a very difficult time due to finance," part of the statement read.
Speaking to TeamKenya.co.ke club Chief Executive (CEO) Nicholas Ochieng indicated that the Kisumu County government - the club's sole sponsor - was yet to receive funds from the national government to support the club's activities.
The CEO further confirmed that the players have been playing without any pay since September 2022.
According to the club, the players had set the target for the season as getting promoted to the top tier however this will not be possible if they give walkovers.
So far, the club's playing unit, coaching staff, and the CEO had already raised among themselves Ksh30,000 to help with traveling to Mombasa.
Ochieng noted that the money was to facilitate fuel as the county government has provided the team with a bus.
"Our request to our leaders in Kisumu County and well-wishers is to chip in and help the team travel," he concluded.
The club is also looking for partners who can help them avoid relegation.
Also Read: Jack Oyoo Sylvester: Tanzanian-born Legend Who Revolutionized Football Commentary