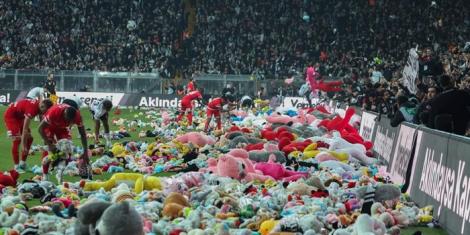 Besiktas supporters have proved they are one of the best in the world after the incredible gesture they did in their match against Antalyaspor on Sunday, February 26, 2023. 
The fans showered child survivors of the tragic adequate that hit Turkey and parts of Syria earlier this month with love in the fixture was staged at the Vodafone Stadium.
Once the clock hit four minutes and 17 seconds from the start of the match, the amazing fans threw thousands of toys onto the pitch including teddy bears to show support for the impacted kids.
Also Read: Malkia Strikers Ace Narrates Turkey Earthquake Experience
According to Besiktas, the purpose of the heartwarming act was to put a smile on the faces of the kids affected by the earthquakes in Turkey.
"We said that no one should be cold in the Van earthquake, now we are in the stands to put a smile on our children's faces!
"We send a meaningful gift to our children affected by the earthquake by throwing plush toys, scarves and berets on the field during the Antalyaspor match," read a statement from the football club. 
The match was also paused to mark the exact time that the natural disaster hit the two neighbouring nations.
On Monday, February 6 at 04:17 am, a 7.8 magnitude hit Turkey, leading to the collapse of numerous buildings.
More than 45,000 individuals lost their lives with many others picking up serious injuries.
The late Ghanaian footballer Christian Atsu was among the people who lost their lives as a result of the earthquake.
Also Read: Yasmine Can: Kenyan-born Turkish Runner Shines in Spain