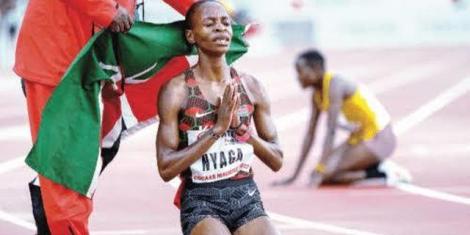 New African Athletics Champion Caroline Nyaga, has detailed how a last-minute change to her attire led to her ecstatic win at the 10,000 metres category held in Mauritius on Saturday, June 11. 
Speaking to the media, Nyaga noted that due to lack of scholarship, she lacked quality shoes to run with, as she had her old and worn-out shoes. 
Seeking to find a solution, her coach reached out to the coach of two-time Olympic Champion, Faith Kipyegon over the matter. 
Also Read: Omanyala Leads Kenya to Fourth Gold in Continental Competitions
"After coming in second in the 5,000 metre trials in Nairobi, I went to Mauritius but the problem is I didn't have running shoes. Mine was worn out so my coach decided to talk to Kipyegon's coach who informed the Olympic champion of my predicament," Nyaga noted. 
Luckily, Nyaga received Kipyegon's shoes the night before the race. Inside the package was a note from the champion, instructing Nyaga not to let her country and instead fly the country's flag high. 
"Kipyegon wrote a few words on a piece of paper which she gave to my trainer who passed it on to me. Her message was that I give it my all in the race and try to win a medal for Kenya. This is why I ran the race like a mad woman," she stated. 
Taking it as a challenge, Nyaga became more determined to scoop gold at the event. The athlete finished the race in 32 minutes, 12 seconds and 61 microseconds, followed by Uganda's Zena Chebet (32:17:66) and Ethiopia's Meret Gebre (32:35:97).
Filled with emotions, Nyaga would be spotted lifting her hands in the air due to the surprise win. 
She also highlighted that she wasn't initially to be in the squad selected for the event but a turn of events at the qualifiers earned her a spot. 
"During the qualifiers, I finished behind the two qualifying spots hence was not eligible to compete. However, for one reason or the other, an athlete selected for the championships pulled out and I was picked to fill in the final spot," Nyaga noted.