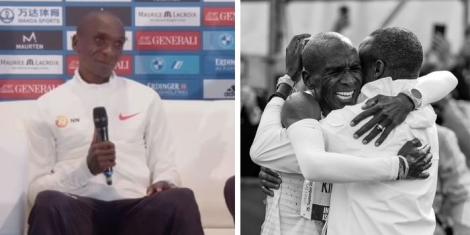 World Marathon record holder Eliud Kipchoge has revealed what led to his triumph in London where he set the world record after breaking his own.
Speaking at a Question and Answer via Instagram on Wednesday, September 28, he divulged some of his tactics as well as gave advice to other athletes. 
Kipchoge also noted that he was doing well after the race and was recovering, adding that he was still internalising the win in London.
Also Read: Pacesetter Gets Rare Chance in London Race After Kenyan Athlete is Injured
The 37-year-old marathoner shared why he arrived in Germany six days before the race. 
"I arrived to acclimatize with the weather, to go to training there, breathe the air of Berlin, attend sponsors timelines, press conferences attend what the organisers are doing. Above all was to relax and put my mind straight as I wanted for the big day. 
Kipchoge noted that his obligations outside running help him get morale before and during the race. 
On what he thinks while in the race the world record holder, noted that he blocked other things from his mind. 
He added that while on the race, he had full concentration on the road, the splits, the KM and the finish line. 
Kipchoge lauded his trainer Patrick Sang for always motivating and keeping him positive highlighting some of the roles he undertakes. 
"Patrick Sang is doing a lot of work for me, preparation with the programme, going for long runs, going for the track sessions, advise on life, sports-wise and business. It is all around and I am getting a lot of advice and positive vibes from him," Kipchoge added. 
The long-distance runner highlighted that it was through pain that he has gained success in his career as a marathoner. 
"Pain is part of the challenge; it is part of any race and the moment you feel that pain then that's where success is. The more I feel the more I want to stick in that pain and that's why that is the place to be in order to be successful and accomplish your dream," he added. 
Kipchoge advised upcoming athletes that the only way to practice mental fitness is to do better preparation and planning.
"My only advice is that start the race run comfortably make sure you hydrate well and finish. Do not check the time to finish the race first," Kipchoge advised upcoming marathoners. 
Kipchoge noted that for him he manages to maintain his consistency by being a real professional as far as running is concerned. He added that he also respects sports as a career.
Also Read: Joyciline Jepkosgei Thirsty for Redemption in London After Boston Set-back