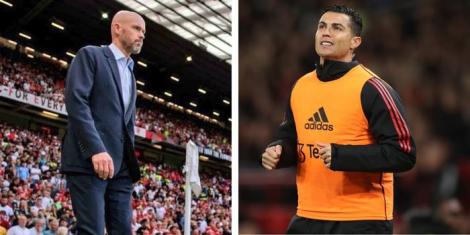 Manchester United manager Erik ten Hag has for the first time addressed the departure of Cristiano Ronaldo.  
ten Hag revealed that the issue between the Portuguese international and Manchester United is no longer important. 
United terminated Ronaldo's contract by mutual consent two days before Portugal's World Cup campaign began.
Also Read: Eden Hazard Quits International Football
"He's gone and it's the past. We are now looking forward and we're looking to the future," ten Hag stated. 
Ronaldo did an interview with Piers Morgan on Talk TV, where he criticized the club and its manager. 
In the interview with Piers, Ronaldo indicated that he felt betrayed by certain individuals at the club for trying to force him out. 
Ronaldo also stated that he did not respect ten Hag because the manager never reciprocated the same to him. 
Manchester United players who are not participating in the World Cup together with their manager are in Spain for a winter training camp. 
The Red Devils were beaten 4-2 by La Liga side, Cadiz, on Wednesday night, December 7, in a friendly match. 
Ronaldo is currently with Portugal for their World Cup campaign and has played down talks of him joining Saudi club Al Nasser.
Also Read: Peter Drury Explains What Happened During His Famous, Barcelona Roma Commentary