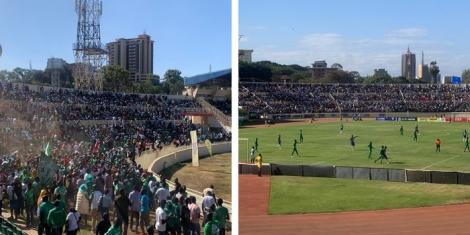 Football Kenya Federation (FKF) secured a three-year sponsorship deal worth Ksh60 million from betting firm, Mozzart Bet Kenya for the FKF Cup.
The deal will see the tournament receive Ksh 20 million each year and the tournament renamed to Mozzart Bet Cup.
During the penning down of the deal on Tuesday, February 28, FKF CEO Barry Otieno noted that the deal would help grow football in the country.
Also Read: FKF Cup Fixtures Announced
"We are grateful for the belief Mozzart has shown in football, especially at this time, when football was without any commercial partners. 
"This partnership marks the first step towards rebuilding the football brand, after the lifting of the FIFA suspension," stated Otieno.
The FKF CEO also announced that the prize money for the competition will be Ksh4.3 million.
According to federation's official, with the partnership, participating clubs will be cushioned from various expenses and will be required to only avail themselves for the fixtures.
The tournament is scheduled to kick off with the round of 32 fixtures on March 4 and 5.
On January 13, 2023, FKF announced the return of the cup after a one-and-a-half-year break. 
FKF Cup is used to determine the club that qualifies for the CAF Confederation Cup.
Also Read: FKF Cup Returns After Year-Long Break