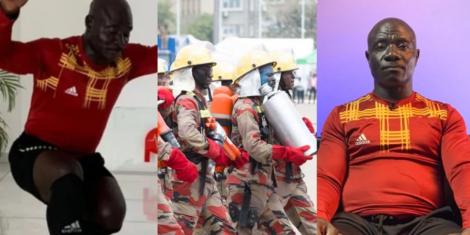 Football officials always seem to have a dark cloud hovering them once they are in general public more so due to their in game judging duties that oftenly get vindicated. 
From uncalled bookings, shocking red cards and blind penalty calls, referees never seem to get off the hook when it comes to getting a scapegoat for the day's poor performance. In Ghana however, one man seems to have won the hearts of many not only as a fair referee but also an entertaining one. 
Ghanaian community referee, Alexander Cofie also known as referee Somo started dancing during games some five years ago when tension emerged during a friendly match between Accra Great Olympics and Attram Academy. 
His style of refereeing, which combines entertainment and comic dancing, has endeared him to many fans in Bukom, where he resides.
Alexander Cofie started playing colts football with Black Stars great, Laryea Kingston and several others who went on to play in major leagues in Europe.
Speaking in an exclusive interview show, Somo said, aside from refereeing, he works with the Ghana National Fire Service. "I'm a Ghana National Fire Service personnel," he said when asked about what he does outside of football.
More to his daily hustles, Somo is also a barber, working from a tiny kiosk made of plywood in Bukom, where he was born and has lived his entire life.
His, is the story of many budding talents in this buzzing shanty town- once a bastion of commerce and hip-life in pre-colonial Ghana. Now, wracked by years of poverty and under-development. The lack of opportunities stifles local talent, said Cofie, "as for Bukom, everybody has a talent. Even children. But we don't have support." 
Bukom has produced many national greats in boxing, dance, music and football, including former world champion Azumah Nelson and Ike Quartey.
The Ghanian government built an Astroturf park at the centre of the slum- where for many years, young people played football on a red dirt field. Since then, many of the unknown talents here have found a place to show their craft.