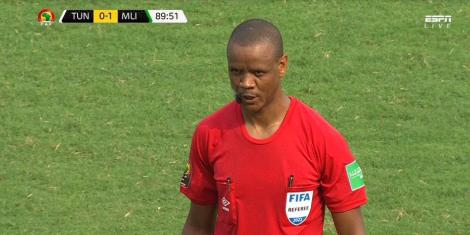 More drama is still flaring in the Africa Cup of Nations as a bizarre stoppage was witnessed between the titanic Mali vs Tunisia clash. The man on the spot was referee Janny Sikazwe.
The funny bit was that a heavy security detail even came to escort Sikazwe and his team off the pitch amid tension and confusion. 
Sikazwe of Zambia made headlines on Tuesday January 11th after he stopped the Group F fixtures with 89 minutes and 44 seconds on the clock, despite a number of stoppages throughout the game which included also blowing for full-time in the 85th minute.
Mali were winning 1-0 at the time, leading to outrage from the Tunisia camp that the final few minutes of the game were not played out.
It had originally looked like the controversy would end there, however CAF officials stormed the press conference of the Mali manager to demand that play be restarted and the final three minutes of the game be played out.
Despite their protests, Mali reluctantly accepted, but the Tunisian team were nowhere to be seen and refused to come back out on the pitch, with the fourth referee then deciding to award the win to Mali.
However it has emerged that the referee in charge has previously had history with the CAF and was suspended by the governing body back in 2018 after allegations of corruption.
As reported, Sikazwe was suspended due to the manner in which he handled a CAF Champions League match between Espérance Sportive de Tunis of Tunisia and Primiero Agosto of Angola.
"The chairman of the CAF Disciplinary Board decides that there is good ground to hold a hearing regarding allegations of corruption made against Mr Janny Sikazwe," read the ruling by the CAF Disciplinary Board.
"Mr Janny Sikazwe is provisionally suspended from all football activities related to Caf pending a hearing before Caf Disciplinary Board."
A suspension was handed down in November 2018 but lifted by FIFA in January 2019.
As of yet, it hasn't been confirmed if Tunisia will lodge an appeal against the result. Should they choose to, it could mean that the game would be rescheduled.