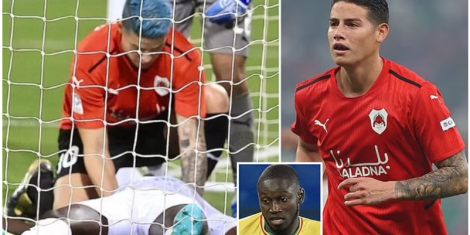 At his new league in Qatar, James Rodriguez will truly be remembered for his heroic efforts of saving Ousmane Coulibaly who had suffered a heart attack. 
Rodriguez was playing for Al-Rayyan against Al-Wakrah in the Qatari Stars League on Monday when Coulibaly was spotted collapsing in the goalmouth during the first-half.
The Colombia international proceeded to run over in aid where he was spotted helping to adjust the head of the 32-year-old, allowing him to be able to breathe before medics rushed onto the scene to continue treatment.
The game was temporarily halted before the severity of the situation led to its eventual abandonment - with the scoreline 1-0 to Al Rayyan at the time of Coulibaly's collapse.
Coulibaly was then taken to hospital before the club released a short statement confirming that he was in a "stable" condition.
Reports said: "Thank you for your messages of support and love, Ousmane is in stable condition due to his heart attack, he regains consciousness slowly but surely.He is in very good hands. Al hamdoulilah. Many thanks to God and the doctor who saved my husband's life! Thank you for all the staff and the team of Al Wakrah SC."
Meanwhile the league also released a statement saying: "The Qatar Stars League wishes the player a fast recovery, and we would like to thank the medical staff of both teams, paramedics and doctors for their great efforts during such events."
The game, which was played last weekend, was abandoned and rescheduled to the following day (Monday January 10th) in which Al-Rayyan won 3-0 - including two goals from James Rodriguez to keep them eighth in the table.
The former World Cup Golden Boot winner failed to live up to the hype at Everton and now, aged just 30. 
Former club Porto, where he first made his name in Europe as one of football's most sparkling teenage talents, were mentioned, as well as Italian giants AC Milan and even a move back to Real Madrid under Carlo Ancelotti.
None of those transfers materialised, however. 
The playmaker had behaved in an almost identical fashion after being cut from Colombia's Copa America plans, leading to an almost irrecuperable rift with the Cafeteros just a few short weeks before seemingly burning his Everton bridges too.
Whether it is down to bad attitude, bad luck or a combination of both, James has failed to sustain his obvious abilities and reach the heights he is capable of on a consistent basis.