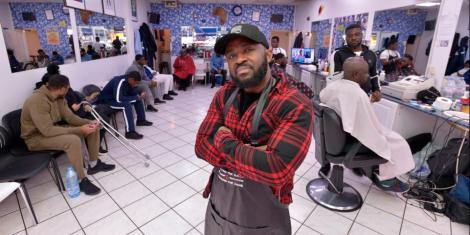 For many in the football community, especially the Premier League, Nikky Okyere is definitely the barber you need to know if you want a fresh cut. 
The Ghanaian-born hairdresser regularly trims the likes of Wilfried Zaha, Danny Welbeck, Jordon Ibe and other Premier League stars.
Originally from Accra, Nikky, 36, runs a business in South London called Slick Rick. During an interview at his barbershop to talk about hair and the trends in the beautiful game, Nikky said about the time he was tipped 2,000 euros by one footballer when he was invited to Mario Balotelli's 25th birthday.
A STARTING POINT
"Back in Ghana, I remember a friend of mine got a haircut at a barber shop. At that time, there was no money. Our parents used to cut our hair, so going to the barber shop was a big deal. When my friend came back from the barbers, his hair didn't look good and I told him I could do much better," Nikky said. 
"I'd never cut anyone's hair at that point, I was about 12-years-old." 
HIS FIRST FOOTBALLER
Nikky moved to London and opened up a shop in Camberwell, where he soon cut the hair of his first footballer, Yakubu.
"It was the first time I'd ever cut a footballer's hair, so it was a great honour. I wasn't starstruck, because it doesn't matter who it is, I'm just happy to cut hair." 
"He sat on the barber's chair and started joking with me, he was very nice." After trimming the former Portsmouth striker's Afro, word of mouth spread among the Premier League's African stars. Michael Essien followed Yakubu into Nikky's chair and the clients kept rolling in.
Soon, the likes of Mamadou Sakho, Bakary Sako, Jordon Ibe and Ahmed Musa all invited Nikky round to theirs for a cut.
However, the first footballer to open their doors to him was Crystal Palace wing-wizard Wilfried Zaha. "Wilfried was the first footballer that invited me to come over to his home and cut his hair," Nikky explains. He was at Cardiff on loan and when he invited me over I was so happy."
"Zaha's really like a brother to me and I enjoy making him look match-ready." Because of his warm personality, it's clear to see how Nikky manages to win the trust of normally private athletes.
Nikky believes Premier League stars have every right to look at their sharpest when millions around the world are watching every week on TV.
Often, you'll see footballers looking sharp for the cameras, but Nikky doesn't see that as them being vain. He believes that it helps the players express themselves better on the pitch. "I believe in personality and your haircut tells the world a lot about you," he said.
THE PRICE OF A CUT
For walk-ins Nikky charges punters ten pounds (Ksh 1500), while if you book an appointment in the barbershop it'll set you back £20 (Ksh 3000).
Footballers who ask for an in-house service pay a premium rate of £100 (Ksh 15,600). But usually, Nikky admitted, they're much more generous than that. Nikky confessed: "Usually I charge £100, but a lot of players give me more than that.
"The biggest tip I ever had was 2,000 Euros." Being the Premier League's go-to barber, as well as British rapper Tinie Tempah's hairdresser, definitely has its perks.