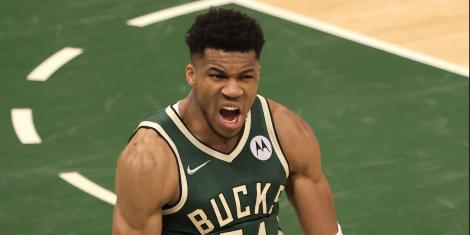 Over the years, ballers of African descent have featured heavily in the National Basket League (NBA). 
Africa has had a good relationship with the NBA, producing some of the very best players of all time like, Hakeem Olajuwon, Steve Nash, Dikembe Mutombo, amongst others, and even some of the best players in the league right now are of African origin.
Let us take a look at the top 5 African players or at least of African descent currently in the NBA.
5. Serge Ibaka:
Born and bred in Brazzaville, Congo, Serge Ibaka moved to France as a 17-year-old to pursue his dream of playing professional basketball, after which he spent some time in Spain, playing mostly in the second division before he eventually landed in the NBA.
Drafted 24th overall by the Seattle SuperSonics, who would eventually become Oklahoma city thunder, he spent one more year in Spain before finally arriving in Oklahoma in 2009.
He was traded to the Orlando Magic in 2016 who in turn traded him to his current team, the Toronto Raptors where he played a key role in helping the team secure their first-ever NBA title in 2019. 
His most notable individual achievements include being named in the NBA all-defensive first three times and leading the league in blocks in 2 separate sessions.
4. Andre Iguodala:
Born in Springfield, Illinois, Andre Iguodala's mother is African-American and his father, a Nigerian who qualifies him for this list, even though he's American through and through.
By far, the most successful player on this list, 36-year old Iguodala, is a 16-year veteran, a vital member of the Golden State Warriors dynasty where he won 3 championships, finals MVP in 2015, All-Star in 2012 amongst several other accomplishments in a long and distinguished career.
3. Pascal Siakam:
The Cameroonian born power forward was drafted by the Raptors out of college 27th overall in 2016 as pretty much an unknown entity. He was immediately assigned to Toronto's G-league team, where he won a championship and finals MVP.
His contributions to the Championship winning season earned him a 4-year contract extension worth $130 million, and he's been living up to the hype, playing a crucial part in Toronto's NBA title defense this season, earning his first-ever All-Star appearance in January.
2. Joel Embiid:
Another one that falls into the category of the very best in the league right now, Joel Embiid is a Cameroonian center who plays for the Philadelphia 76ers.
Born in Yaounde, Embiid moved to the United States as a 16-year old to pursue his dream of playing in the NBA, which he eventually achieved when he was drafted as the 3rd overall pick by the Philadelphia 76ers after one year in college but wouldn't play for the 6ers until 2016 because of a long term injury.
When he did return, he took the league by storm in his debut season, leading the 76ers to give him a 5-year contract worth $148 million with an option for $30 million more if he makes the all-NBA first team.
1. Giannis Antetokounmpo:
Born in Athens, Greece, to Nigerian parents, Giannis has never been one to shy away from his African roots, displaying his Nigerian pride at will even though he represents Greece on the international stage.
His last name, originally Adetokunbo, had to be Hellenized to Antetokounmpo in 2013 when he got his Greek citizenship according to the laws of the land.
Standing at 6ft 11 inches, the Power Forward's dominant physique and explosive style of play, which includes incredible athleticism, earned him the nickname, "The Greek Freak."
At just 25 years old he already has a long list of career achievements that would make veterans jealous. Apart from being the current MVP, he's also a 4-time All-Star, made the all-NBA first team once, all-NBA second team twice, most improved player in 2017 just to name a few of his honors.
All of Giannis' 7 years in the NBA have been with the Milwaukee Bucks who drafted him 15th overall in 2013, his $100 million contract is matched by his career stats 27.3 points per game, 8.8 rebounds per game and 3 assists per game.