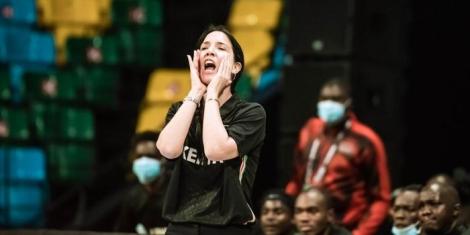 On Sunday, January 9, Kenya Basketball Federation (KBF) Secretary-General Ambrose Kisoi announced Liz Mills had not signed any contract with Morans.
The KBF Secretary General noted that Liz was just appointed to assist the team through the AfroBasket journey alone. 
The Australian coach who has been a revelation since joining the Kenyan technical bench in February last year and will be replaced by legendary coach Cliff Owuor. 
"KBF brought in Liz Mills to only assist the team and not tied down to a contract. She requested us to let her assist Morans as we sorted out our issues after Owuor found a job in Rwanda. Today, Owuor is back, now she has to leave," Kisoi stated.
She earned her place in continental basketball history as the first woman to steer a men's team to the championships.
Mills, who has been coaching men's basketball in Africa for the last 10 years, was keen to note that for Kenya to compete with top ranked teams they have to change their style and culture.
"In every article and press conference, I have always proudly acknowledged and spoken highly of Kenya, the players, and the federation, regardless of any issues circulating behind the scenes.
"To compete with the top ranked FIBA teams in Africa, the style and culture of Kenyan basketball needed to evolve.
"Run and gun amateur tactics and simplistic plays would hinder the team's performance moving into an elite national competition such as AfroBasket. Growth and development are challenging and uncomfortable but can be incredibly rewarding if you are open to the process," Mills stated.
The Australian coach was keen to highlight that some Moran players were not open to this mindset and it was reflected in their time on the court at AfroBasket.
"Even the greatest players in the world strive to be better. A few of the Kenya players simply did not believe they needed to get better.
"Competition in a team should be healthy but some players went so far as to speak to members of the coaching staff and asked that teammates be dropped because they were worried about their playing time," she added.
She also highlighted that some players had numerous disciplinary infractions during training camp and at AfroBasket. This included arriving late or missing training and film sessions, as well as being late to depart for games. Players were also caught drinking and leaving training camp to attend parties.
Mills revealed also that the players also misused the trust of the coaching staff whereby when they were awarded days off or given leave to finish work or handle family matters the players would fail to report to team activities on time or not even reporting.
Before Mills became the head coach of the Morans, Kenya had one of the worst defensive ratings in the AfroBasket qualifiers. At the end of AfroBasket, the team finished with the fifth best defense and also improved its offensive efficiency.
During her tenure Kenya not only played at the AfroBasket for the first time in nearly three decades, but also advanced from the Group Phase after a win over Mali.
"Regarding my comments about the nature of the team moving forward, the federation had spoken with the coaching staff numerous times about its desire to rebuild around a younger group of players, especially those with international experience.
"Throughout my time with the team I consistently had meetings with individual players to listen to feedback and it is disappointing that players did not want to discuss their feedback with me after AfroBasket.
"It is unfortunate that some players feel the need to point fingers and make excuses rather than hold themselves accountable for their lack of court time and poor performance.
"Being able to self-reflect and analyse is what separates average players from great players. It is also disappointing that these players felt the need to air their grievances to newspapers rather than going through appropriate basketball channels.
"I was not made aware by the captain or this group of players of any issues they had, nor did the federation ever speak to me regarding them. I will not be making any further public statements regarding issues within the team and federation" Mills highlighted.
The decorated basketball coach thanked Kenyan fans for their support as she coached the Morans however she noted she would not return to the team.
"After AfroBasket, I had no plans of returning to the team, although I did continue to speak with federation members and some players in the hope of leaving the team in a good position to start its preparation for World Cup qualifiers. Moving forward I wish the team all the best," she stated.