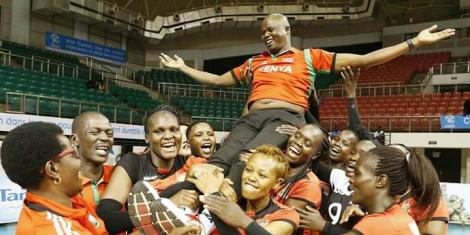 Malkia strikers head coach, Paul Bitok, has signed a Ksh10 million deal that will help the resumption and nurturing of sports talent at the Paul Bitok Academy.
The academy, which is located in Uasin Gishu County, was closed down on the onset of the Covid-19 pandemic that distabilised livelihoods.
Before its closure, the Academy had 354 learners who were forced to seek alternative places to nurture their sports talents.
The Ksh10 million partnership with Soar Africa will see children from vulnerable families get a second chance to realise their dreams.
"So, we want to zero in where we have good talents in Kenya," stated Bitok.
"As for me who is already in volleyball, I'm targeting the young from as early as the age of eight years so that we can attain the maximum results and have professional players in future."
The representative from Soar Africa was keen to note that the organisation will support the community and the vulnerable kids especially from the areas around Eldoret.
"We want to have the vulnerable kids in this programme, get them to expose their talents," noted the representative.
"We will start by figuring out who are those kids in need of help and have talents. We will then bring them to the academy.
"The sports academy will evolve to a school where we will be having academics in the morning, rigorous strong Christian curriculum and have the coaching and athletics in the afternoon then in the evening they get back to the academics," the Soar Africa representative added.