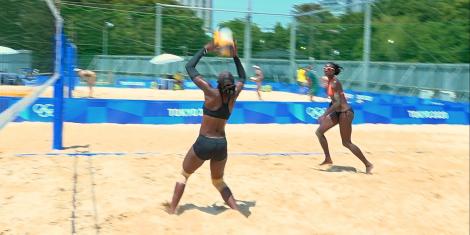 The Kenya Beach Volleyball team has secured a ticket to the World Championships.
The Confederation of African Volleyball (CAVB) announced that Kenya joins Morocco, Egypt and Mozambique as Africa's representatives at the Championships. 
The team, who last month qualified for the Commonwealth Games slated for July 28 to August 8 through FIVB rankings, will also participate in the World Championships in Rome, Italy. 
The countries were selected in order of their FIVB ranking after CAVB failed to organise qualifiers due to time constraints.
Also Read: Volleyball Legend Paul Bitok Pens Ksh10M Deal to Nurture Talents 
"The FIVB requested all Confederations to submit their qualification pathway for the FIVB Women's Beach Volleyball World Championships to be held from June 10 to 19, 2022, in Rome, Italy. 
"As we could not organise a qualification tournament within the qualification window, we submitted a qualification pathway which was within the FIVB guidelines. The FIVB approved our proposal. 
"Based on the above pathway we computed all points accumulated and drew up a ranking table based on the qualification pathway above. Furthermore, after the ranking we conducted an eligibility assessment of all teams to ensure they conform to the FIVB eligibility requirements. 
"This allowed us to determine the 4 teams that would represent Africa at the FIVB Women's Beach Volleyball World Championships and the reserve teams in order or ranking that would replace any qualified team that would have not taken up their slot," the letter read. 
Kenya will be participating in the World Championship for a second time with its last appearance in 2017 in Viena, Austria, through Naomi Too and Gaudencia Makokha. 
Kenya is yet to choose the pair that will head for the global tournament as each participating country is required to field only one pair. 
Kenya with the rest of the teams that have qualified are expected to confirm their participation to FIVB by Sunday, April 24. 
If they fail to do so by the stipulated time, the slots will be given to the reserve teams in order of priority. 
The reserves team includes Nigeria, Gambia and Rwanda in order of priority respectively. 
Also Read: Kenyan Teams Fail to Qualify for Commonwealth Games