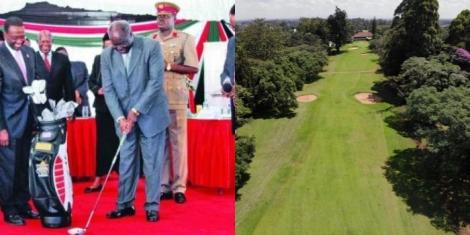 The late President Mwai Kibaki was known to be a strong supporter of golf and was regarded as a world-class golfer. 
Kibaki played a big role in shaping golf in Kenya as he was the patron of the Kenya Golf Union which he served for 30 years. 
In 2018, he was inducted into the Kenya Open Hall of Fame for his contributions to the sport. He was among 12 people who received the prestigious award.
Also Read: Time Kibaki Awarded Athletes Ksh7M and Heifers
The former Head of State played a key role in promoting the game in the country and on many occasions challenged golf authorities to develop and spread the game beyond the club level in Kenya.   
He once recommended spreading it to schools, which he believed would build a lasting and strong foundation. 
Back in 2013 Kibaki attended the launch of the ultra-modern 18-hole golf course at the Veterinary Laboratory Sports Club, commonly referred as Vet Lab in Nairobi where he advocated for the nurturing of young golfing talent. 
During that ceremony Kibaki noted that for the sport to grow it has to start at the youth level by naturing the young talent.  
"The only way any sport can grow is by having a structured way of developing young talent. Unfortunately, many of us started playing golf when we had matured in age and therefore could not climb to the top of the sport," Kibaki stated previously. 
Kibaki was a member of the Muthaiga Golf Club for many decades where he would often go to play both as a President and civilian. 
Before his election as President in December 2002, Kibaki was already a registered member of the Muthaiga Golf Club. 
Kibaki was reported to often walk through a back gate from his home to enter the Muthaiga Golf Club, where he spent several of his evenings.
Also Read: Story of Ksh2 Billion Fifa Trophy & Why Raila Was Blocked From Carrying It