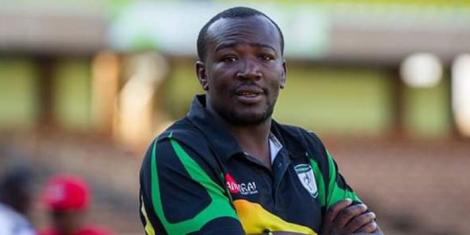 Kenyan rugby coach Felix Oloo has been appointed to join part of Canada's rugby club coaching staff. 
Felix, the immediate former Kenya Lioness coach was unveiled at Ottawa's Barrhaven Scottish rugby football club in Canada. 
The experienced coach attained his World Rugby Level 2 coaching certifications in December 2021 alongside Kevin Amiani and Dennis Mwanja. 
Also Read: Banned in Kenya, Rugby Star Finds New Success in the US Army
"I am hugely honoured to be part of the coaching staff for a club of this calibre, one that means so much to me and I am quickly adapting into the system," Oloo stated. 
Oloo, who was also the Nakuru RFC head coach resigned from his role at Lionesses around three weeks ago to take up the job. 
The Kenyan coach noted that he believes that his successor at Lioness will have an easy transition as he left good structures in place. 
"I have thoroughly enjoyed every moment with Kenya lionesses and I must say I was very fortunate to work with an incredible group of staff and players who had different personalities but shared a common goal each day in striving for the success of Kenya Women Rugby. 
"I believe we have tried to establish structures in place even though with little resources and facilities to match and that it will be a smooth transition for the next coach as they try to ensure continued development and success of Kenya Women Rugby," the coach noted. 
During his time in Kenya Oloo has previously held various coaching roles with Nakuru RFC both Women's and Men's teams, both Kenya Lionesses 15s and 7s teams, Nakuru Day High School and Nakuru's age-grade programs. 
Kenya Lioness are currently under the leadership of Denise Mwanja who will lead the side of Tunisia for the Africa Women 7s. 
Moses Ndale, Kenya Rugby Union  Director in charge of Women Rugby, praised Oloo for his contribution to the women's rugby where he led the team to the Tokyo Olympics. 
"I would like to thank Felix Oloo for the hard work and diligence during his tenure, it was not an easy job. It was important that Kenya Women Rugby have someone who understood the unique history and culture of Kenya Women Rugby and had the experience to maximize the talent in the squad as he did. 
"Oloo was very impressive throughout his tenure and demonstrated that he had the capabilities to spearhead the next chapter of Kenya Women Rugby as was seen in his achievement in Tokyo Olympics, Africa Women Cup, Africa Women 7s, Dubai 7s invitational, Elgon Cup and in the local league.
"Oloo's extensive coaching experience and knowledge of the game makes him the perfect candidate to lead any squad forward anywhere in the world," he noted. 
Ndale noted that Mwanja will continue with the team for the remainder of this year's calendar year. 
"For now, we will continue our focus on the remainder of this year's busy calendar with Denise Mwanja and the coaching staff concentrating on achieving our goals from the work that has been carried out to date by Felix Oloo. We wish him all the best in his new endeavours," Ndale added.
Also Read: Meet First Kenyan to Play Pro Rugby in Japan