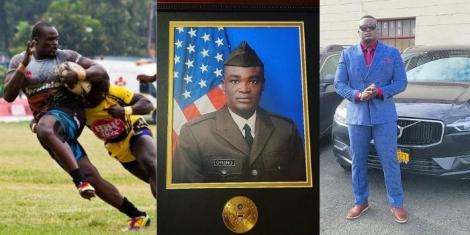 Former Kenya 7s and 15s rugby player, Horace Owiti, is now a military officer with the US army.
Through a post on his social media platform, Owiti, posted a photo noting that he was ready for deployment by the US government.
"I stand ready to deploy, engage, and destroy, the enemies of the United States of America in close combat," his post read. 
Also Read: Collins Injera Now a Farmer and Golfer
In 2017, Owiti was handed a four month ban from all rugby activities by the Kenya Rugby Union judicial commission while playing for Mwamba RFC in the National Sevens Circuit. 
Owiti, who made his first appearance of the season for Mwamba during the Kabeberi 7s on September 9, 2017, was accused of insulting a match referee after his side lost to Nondies. 
Owiti, who was present during the hearing, later noted that the reason for him losing his cool was as a result of the game being a high-pressure one. 
Owiti was found in breach of World Rugby Regulation for engaging in conduct that would bring the Game into disrepute and did not uphold the spirit of the Laws of the Game. 
The ex-rugby star was part of the Kenyan rugby team that made history after reaching the 2009 Rugby World Cup 7s semifinals. 
During his career with Shujaa he was able to feature in 122 matches where he scored 215 points with 43 tries. 
In 2014 while at Mwamba RFC's Owiti agreed to a one year deal with Sri Lanka top rugby side Police Rugby Club.
Also Read: Meet First Kenyan to Play Pro Rugby in Japan