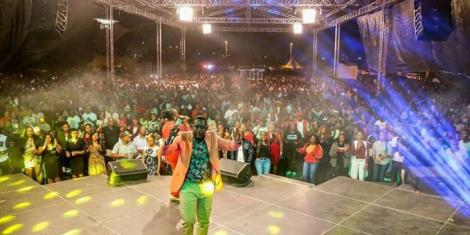 Former Churchill Show Comedian Francis Onono, popularly known as Brigeddia General, helped the Austin Semi-pro Basketball team to become the season's champions after a stellar performance. 
In a statement on Monday, May 2, Brigeddia noted that the weekend victory was even more emphatic considering that he was to be benched due to an illness that saw him hospitalised last week. 
He noted that a mishap from his teammates created room for him to play and hence resorted to ignoring the pain and the illness to propel his team to victory. 
Also Read: Story of Kenyan Shining in US Basketball Competitions
"Let me tell you, so I was fully functioning from my illness on Friday and I was feeling a little weak though, So, on Saturday we "my SemiPro-Basketball Team" had matches to play on Saturday and Sunday. 
"Guess what, out of the 11 players who were expected to play, only 4 showed up. The other 7 confused the game time and did not show up. I had to step up to fill up the blank gap and hoop. 
"I ignored the sickness and pain, and I hooped like never before. Won the Quarters, Semi-finals, and the Finals against one of the best Semi-Pro teams in Texas. Today as we speak.  We are the Champions," he stated.
The amazing feat was lauded by Kenyans online who congratulated the tremendous progress shown by the former comedian. 
In April 2021, he graduated from the US Army Academy at Fort Sill Oklahoma. While announcing the news, Brigeddia noted that the 30-year journey had culminated at that particular moment. 
"To all the young men out there, believe that dreams do come true. It's just a matter of time. Chase your dreams. Don't give up no matter what. Rest if you have to, but don't stop. Don't you ever give up," he urged his fans.
The comedian joined Churchill Show in 2014 after being spotted by a talent scout at a hotel where he had been performing comical poetry before a successful audition followed.