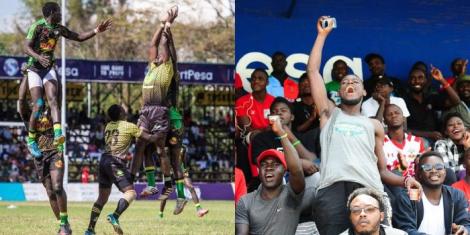 The National Rugby 7s Circuit makes a return after a two-year hiatus with the historic Kabeberi 7s to kick off the circuit.
The Kabeberi 7s will take part at the RFUEA Grounds in Nairobi from May 21 to May 22, 2022.
The organizers of the circuit, Mwamba RFC, have welcomed fans to cheer their favourite teams during the sporting period.
Also Read: After Heart Surgery 21-Year-Old Kenyan Lead Shujaa to World Cup 
"Unleash the legend! Come roar at Kabeberi7s and shake the RFUEA Grounds once again! Time to relive the memories and the good times as we welcome sevens rugby back!" stated Mwamba.
The Kenya Rugby Union (KRU) Sevens circuit is played every year with six different circuits taking place.
The Kabeberi 7s is one of the best-attended tournaments in the series owing to the fact that it takes place in Nairobi.
There are only two events that take place in Nairobi: The Kabeberi 7s and Christie 7s.
The Kababeri 7s was first played in 1986 to commemorate the passing away of one of the founding members of Mwamba RFC, George Mwangi Kabeberi.
In recent years, the tournament has been expanded to honour other departed club members.
Some of the largest attended Kabeberi 7s tournaments were in 2013 and 2014 attracting over 10,000 spectators through the weekend.
This year's circuit will have six rounds starting with two opening legs in Nairobi.
Other tournaments are the Kakamega 7s, Drift Woods 7s (Mombasa), Dala 7s (Kisumu) and Prinsloo 7s (Nakuru).
The last circuit - which took place in 2019 - was won by KCB with Mwamba tying with Homeboyz in second place as Nakuru and Impala finished fourth and fifth respectively.
Also Read: Kenya Rugby Union Warned Over Sweet Ksh2.1 Billion Deal