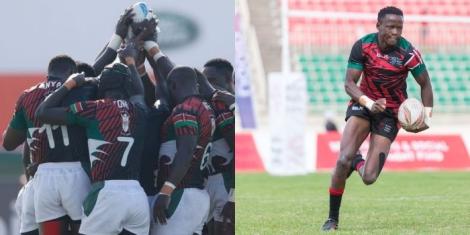 In the recent past, there have been cases of athletes suffering from heart conditions rendering them out of action. 
After undergoing a major operation such as heart surgery,  it is not usual for one to make a comeback and have an instant impact. 
However, this is not the case for one Kenyan who made a debut after a heart corrective surgery and led the country to World Cup. 
Also Read: Kenya Rugby Union Warned Over Sweet Ksh2.1 Billion Deal
Shujaa's Amon Wamalwa scored two out of three tries that saw Shujaa book a slot at the World Cup Sevens. 
The 21-year-old rugby player, back in August 2021, had heart complications that needed corrective surgery. 
Shuja who faced Zambia registered a 192 win in their third or fourth-place playoff match on Sunday, April 24, at the Kyadondo Grounds in Kampala, Uganda. 
The national rugby team thus booked their ticket to the 2022 Rugby World Cup Sevens slated for September 2022 in South Africa. 
Shujaa who were the reigning African title holders relinquished the trophy after losing to neighbours in the Semifinals. 
Kenya's Shujaa will take part in the World Cup for the sixth time in its history.