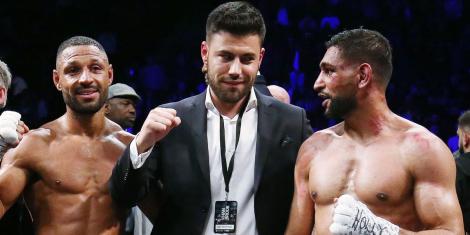 World's celebrated boxer, Amir Khan, has announced his retirement from the ring.
Khan, who in February suffered a resounding loss to Brook, confirmed his retirement in a statement on social media on Friday, May 13.
This brings an end to his boxing career spanning almost three decades.
Also Read: Lindah Oguttu Retained at FKF in New Changes
"It's time to hang up my gloves. I feel blessed to have had such an amazing career that has spanned over 27 years," he tweeted. 
"I want to say a heartfelt thanks to the incredible teams I have worked with and to my family, friends, and fans for the love and support they have shown me."
The 35-year-old last posted a sensational video on Twitter with his fellow veteran boxer Floyd Mayweather, a statement that was interpreted as signalling bigger things to come.
Born Amir Iqbal Khan in Bolton, United Kingdom, he grew up in the Greater Manchester area in England where he was introduced to boxing classes at the tender age of 8 years.
Amir's career picked off ceremoniously at the 2004 Olympics with a silver medal in the lightweight division, making him Britain's youngest boxing Olympic medalist at 17 years.
The staunch Muslim clinched the World Boxing Association (WBA) title from 2009 to 2012, adding to his overflowing basket of awards.
His other accolades include the BF title in 2011. In the United Kingdom, he held the Commonwealth lightweight title from 2007 to 2008.
Besides boxing, the father of three has established a branded clothing line that stocks branded merchandise on his official website.
Amir recently made inroads into philanthropy with the Amir Khan Foundation which supports the needy and backs various noble causes globally.
Amir says he draws inspiration from other great boxers that lived before him among them the phenomenal Mohamed Ali.
"He has given back to humanity and as he once said… 'Service to others is the rent you pay for your room here on earth," he writes on his official website quoting the late Mohamed Ali.