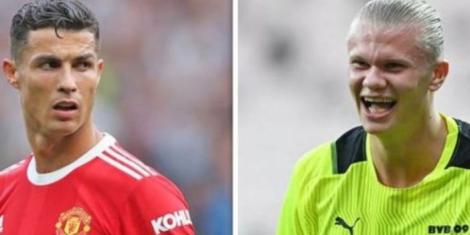 Football records are often perceived as a testament to a player's hard work and zeal, with his accomplishment immortalised in the annuls of history.
Over the years, the English Premier League has been a proving ground for players to test their mettle against top-tier competition. Football fans have been treated to a spectacle in EPL's 30- year history as players have set records that would evidently require superhuman efforts to break. 
Teamkenya.co.ke has compiled a list of EPL stars who have astounded the scene with exceptional records. 
Erling Haaland Nine-Goal Spectacular
New Manchester City signee, Erling Haaland, has been in sensational form in the Bundesliga, scoring 85 times for Dortmund in just 88 games.
The Norwegian has proven to be an unstoppable force as he once scored nine goals for the club's under-20 team at the World Cup in 2019, with the scoring sheet totaling 12 - 0. Haaland was 18-years-old at the time. 
Cristiano Ronaldo's New Heights
Manchester United's Cristiano Ronaldo needs no introduction as he is arguably the greatest of all time hence the moniker, GOAT.
During the 2013-14 UEFA Champions League season, Ronaldo, who played for Real Madrid at the time, scored an insane goal against his current club with a giant leap of 2.93 metres. 
Son Heung Min 80 meters Dash
Tottenham's Son Heung Min made history when he covered 80 metres in order to score a magnificent goal against Burnley FC in 2019. The footballer was able to bypass eight defenders and the goalkeeper in order to net the ball with a right-footed shot. 
Nicklas Bendtner- Just in Time
Former Arsenal player, Nicklas Bendtner, scored a goal, six seconds after coming off the bench against Tottenham in a highly anticipated North London derby in 2007.  
Emmanuel Adebayor had put Arsenal in front in the 48th minute but a marvelous finish from Dimitar Berbatov drew Spurs level.
With the match drawing to a close, Ex-Arsenal manager, Arsene Wenger made a tactical change and brought in Bendtner in place of Emmanuel Eboue who came in right in time for a corner kick and netted the ball. 
Hat-trick Maestro James Hayter 
Former AFC Bournemouth player, James Hayter, is renowned for scoring the fastest hat-trick in football league history. On February 24, 2004, he scored thrice within two minutes and 20 seconds over Wrexham AFC ending in a 6-0 thrashing.