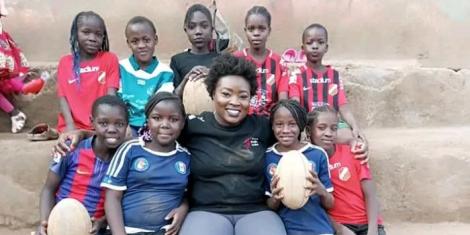 Sport is central to every society and culture and has the power to transform the lives of individuals, particularly those from poor backgrounds. Mercy Migongo is among the few Kenyan athletes who use sport to improve the lives of vulnerable children in society.
Her story is that of self-sacrifice, dedication and love. The former Kenya Lioness player retired at the age of 25 years to dedicate her life to helping vulnerable young girls in Kibera slum - Africa's largest informal settlement with an estimated population of 250,000 people.
The former Kenya Lioness player started an initiative known as Kibera Golden Stars Rugby program in 2019, with the objective of improving the lives of girls from disadvantaged families.
Also Read: Why Kenya Boycotted 1986 Commonwealth Games
Speaking to Scrummage Africa, Migongo stated that the program offers young girls between the age of 11 and 16 years vital lessons especially on the dangers of drug abuse and sexual reproductive health.
"We not only take them through rugby skills and drills but also basic life skills. The girls understand more about the sexual reproductive health and drug abuse.
"We are also creating awareness on mental health and creating a safe space and positive environment for the girls to discuss what they go through in their daily lives," she revealed.
Migongo - who is a certified world rugby coach - revealed that she has created a mother-daughter relationship with over thirty girls through the program.
Also Read: Arsenal Player Narrates How Losing 2 Friends to Suicide Affected Him
"I have been able to create a mother-daughter relationship with my players. The smiles, talent and passion I see in the girls keeps me wanting to go back and train them, the hunger for success these girls have is on another level," she added.
According to Migongo, the goal of the program is to mould young girls into all-rounded women who will do well in both life and rugby.
"We are looking to transform the program into a female rugby club and play safe house to young girls and women in Kibera. We want to attract opportunities such as scholarships and in the few years to come.
"I want to see these girls joining colleges and universities to further their studies. Lastly, we are looking to create an all-round athlete; good in both rugby and life skills," she added.
Besides playing for the Kenyan national team, Migongo previously played for a host of Kenyan clubs including Homeboyz, Nakuru Rugby Club, Impala Rugby Club and Kenya Harlequins.
Also Read: Scottish Athlete Denies Kenya Gold in 10,000m, 36 Yrs After Her Mum Won Same Race