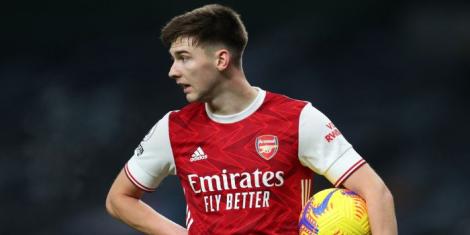 Arsenal left-back Kieran Tierney revealed on August 3, 2022 how homesickness and losing two friends to suicide soon after joining Arsenal hit him.
The 25-year-old joined the Gunners in the summer of 2019 after spending nearly all his years in Scotland. He grew up in Motherwell where his passion for Celtic FC began. At the tender age of 8, Tierney joined Celtic and went on to make 170 appearances and even captained them.
Speaking to The Sun, the no nonsense player narrated how he struggled with homesickness after moving to North London.
Also Read: Erik Ten Hag Responds After Cristiano Ronaldo Stormed Out of Match
"It was hard to start with, I was really struggling. Really low point. Homesickness was terrible to start with. Outside training you had a lot of time to think. I'm not saying I was ever in a bad, bad place where I was suicidal," he disclosed.
The 25-year old regretted that his friends were not comfortable enough to approach and share with him their troubles before they decided to take their own lives.
"But my friends have been. Two or three of them have committed suicide, lost their life. You're with these people and you don't know a thing. They've not spoke. 
"So I think I feel a certain responsibility to try and help as much as I can because I kind of know how it feels to be in a certain place," he added.
Also Read: Major Boost for Pogba Ahead of 2022 FIFA World Cup
Tierney also divulged that he got his fighting spirit from his parents who came from a working class family and did everything to ensure he never lacked anything.
"I think that's where I get a lot of my work-rate from. My mentality is from my mum and dad. They worked for everything they have. 
"My mum had three jobs, as a dinner lady, a cleaner in the school. She was up at five, six in the morning everyday just to provide for me and my sister," he ended.
Although he has only made 64 appearances since joining Arsenal, Tierney has had an impressive spell with the Gunners, helping them win several trophies including the 2020 FA Cup.
Also Read: Napoli Owner Aurelio de Laurentiis Won't Sign African Players Due to AFCON