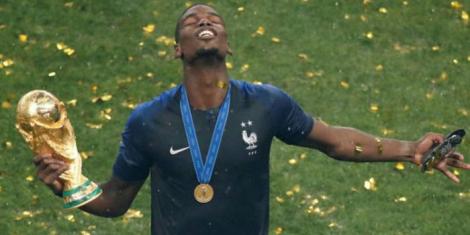 French midfielder Paul Pogba received a major boost ahead of the eagerly awaited 2022 FIFA World Cup scheduled to take place from November 21 to Sunday December 18, 2022.
There were fears that Pogba would be forced to undergo surgery due to a knee injury he picked recently during the Juventus pre-season tour in the United States. 
Should Pogba have undergone the procedure, he would have been sidelined for the rest of the year, thus missing the upcoming World Cup.
Also Read: How Jurgen Klopp Saved His Assistant's Job
However, after consulting a specialist in Lyon, the 29-year-old has been convinced that there is no need to undergo the surgery since a five week conservative treatment would be enough to get him back and running.
"No long stop and meniscus surgery: Paul Pogba should return to the field with Juventus in five weeks, at the end of conservative therapy. 
"After the same day medical consultation in Lyon, with Professor Bertrand Sonnery-Cotter, the path was chosen that avoids the long stop, but also the one that does not guarantee the total resolution of the problem," Gazzetta dello Sport reported.
The conservative treatment will involve 2 weeks on the field and 3 weeks in the Gym.
Also Read: Messi Lends Ex-Teammate Ksh1.7B Private Jet
The powerful midfielder was re-signed by Juventus FC on a free transfer earlier this month. He signed a four-year deal with the Italian giants. 
The former Manchester United star is expected to miss the start of the 2022/2023 Serie A campaign which kicks off on August 13. He is likely to return to action in September and help the Massimiliano Allegri's side win the title which has been elusive in the past two seasons.
Pogba was part of the French squad that graced the 2018 FIFA World Cup staged in Russia. He played a crucial role to help Les Bleus win their first FIFA World Cup trophy since 1998, scoring a goal in their 4-2 win against Croatia.
Also Read: Footballer Suspended for Life After Beating Female Referee