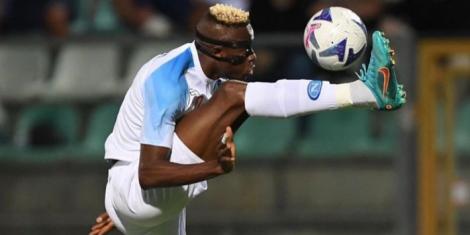 Napoli owner Aurelio De Laurentiis says he will not be seeking the services of African players anymore.
In an interview with Wall Street Italia Smart Talk on Tuesday, August 2, Laurentiis revealed that the club will never buy African stars unless they sign a legal document accepting that they will not take part in the African Cup of Nations (AFCON) Tournament.
"I told them, lads, don't talk to me about Africans anymore. I love them, but either they sign something confirming they will back out of playing the Africa Cup of Nations.
Also Read: Major Boost for Pogba Ahead of 2022 FIFA World Cup
"We are the idiots who pay salaries only to send them all over the world playing for others," Laurentiis argued.
Many European clubs - particularly in England and Italy - have raised concerns over the years about their players gracing the AFCON tournament. For example, earlier this year, Watford allegedly refused to grant Nigerian star Emmanuel Dennis a chance to represent his country in the continental showpiece. 
Liverpool manager, Jurgen Klopp, also came under sharp criticism after he described AFCON as "a little tournament". The German tactician later clarified his comments stating that he had a different idea on his mind.
"What I meant is, because people said, and if you watch the full press conference, if you wanted to understand it in the right way you could have understood it in the right way.
Also Read: Dan Shikanda: Why I Had to Lie to Save AFC Leopards
"I said 'there's no international break anymore until March' and I said: 'Oh and there's a little tournament in January,' and I didn't mean a little tournament, just like you say it when there's still a tournament. It's ironic," Sky Sports reported.
The AFCON tournament is held every two years and the recent one was staged in Cameroon between January 9 and February 6, 2022. Kalidou Koulibaly, who was the Napoli captain then, helped Senegal win their maiden African title. Napoli missed his services for more than a month because of AFCON.
Nigerian goal poacher Victor Osimhen and Cameroonian midfielder, Zambo Franck-Anguissa, are the only African footballers currently playing for Napoli.
Also Read: Man United Stars Among Most Abused EPL Players - Twitter Analysis Report