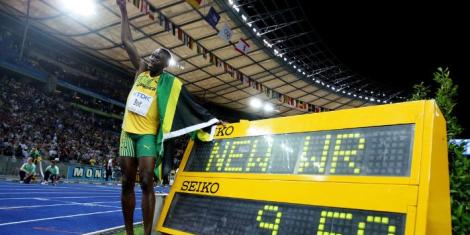 Scientists based at the University of Bath have explained why it is highly unlikely that an athlete will ever break Usain Bolt's 100m record of 9.58 set at the 2009 IAAF championships staged in Berlin, Germany.
The Jamaican legend broke into the limelight in 2008 during the Reebok Grand Prix held in the United States when he clocked 9.72 seconds to break compatriot Asafa Powell's 100m world record.
A few months later, he lowered the record from 9.72 to 9.69 seconds at the 2008 Beijing Olympic Games.
Bolt did not stop there, he went on to run the greatest 100m race in history at the 2009 World Championships in Germany when he clocked 9.58 to shutter his own world record by an impressive nine seconds.
In a phone interview with MailOnline, Sam Allen, a lecture at Loughborough University stated that the current record will not be broken anytime soon.
"Based on the current rates of progression I would say no.
"However obviously anything could and likely will happen in the fullness of time, there is no accounting for currently unknown factors completely shifting the goalposts." he opined
Also Read: Amina Mohamed Awarded by the Commonwealth Organisation 
According to a study done by Aki Salo and Polly McGuigan of the University of Bath, the genetic factors that allowed the Jamaican athlete to achieve the fete are extremely rare. 
"A combination of genetics and training would need to produce bum, thigh and calf muscles which are a little bit stronger and faster than the current best sprinters.
"A muscle with a high proportion of large, fast twitch muscle fibers will be able to generate larger amounts of force more quickly than a muscle with a lower proportion.
Also Read: Scottish Athlete Denies Kenya Gold in 10,000m, 36 Yrs After Her Mum Won Same Race
"It's safe to say that someone will break the nine-second barrier – not necessarily in our lifetime, but it will happen one day," read the findings of the study.
Before Bolt set the 100m record, very few athletes had managed to run under 10.00 seconds. Jim Hines was the first person to register a sub 10 seconds time in the history of athletics.
The United States international clocked 9.95 seconds to clinch a gold medal during the 1968 Olympic Games held in Mexico. 
As of July 2022, fewer than 200 athletes had managed to run the 100m race in less than 10 seconds including Kenya's Ferdinand Omanyala, Tyson Gay, Yohan Blake and Justin Gatlin. Christian Coleman, Nesta Carter and Steve Mullings are also part of the elite club. 
Also Read: Why Kenya Boycotted 1986 Commonwealth Games