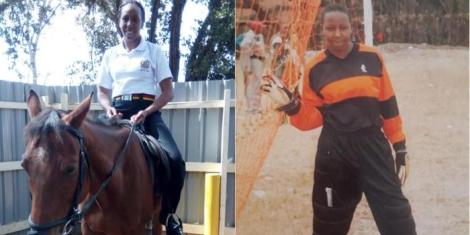 Corporal Purity Nekesa Muraya is a footballer, poet, driver, mother and wife, who has excelled in the National Police Service.  
When Harambee Starlets warmed the hearts of Kenyans through its spectacular sporting triumphs, Corporal Nekesa was among the key players in the team representing the country internationally in Nigeria, Rwanda, Tanzania, Uganda, and Burundi. 
According to the National Police Service (NPS), she has greatly enhanced police and public cooperation through poetry and sports, leading to a seamless flow of information and intelligence leading to safer neighborhoods. 
Also Read: Jim Ratcliffe's Spokesperson Speaks on Plans to Buy Manchester United
She holds the Distinguished Service Award awarded by the then Inspector General of the Police, Joseph Boinnet. This was due to her being one of the leading groups of officers who defended police reforms. 
She was also featured in a National Police Service publication dubbed 'From Force to Service'.
Nekesa has served in Malindi Divisional Headquarters, Tourist Police Unit. She is now deployed at the Directorate of Human Capital Development - Training Department and Sports Office. 
Corporal Nekesa has undertaken a Data Analysis Course at Kenya Wildlife Service Training Institute in Naivasha, Basic Crime Investigation Course at the Police Training Centre in Mombasa, Elementary Driving Course at the Police Driving School, and Defensive Driving Course conducted by the Presidential Escort Unit. 
According to the NPS, she plans to consistently mentor the upcoming poets and encourage the best possible performance at the national and global levels. 
She has received immense support from the NPS which has catapulted her to the national and global limelight. 
Nekesa has had the opportunity to perform high-level police functions and entertain domestic and international guests at various five-star hotels.  
She is featured in a song called "NPS Anthem" by Mandilly. She is also the first female poet in the National Police Service.
Also Read: Kenyan Striker Jonah Ayunga Shines Months After Joining Scottish Side St Mirren