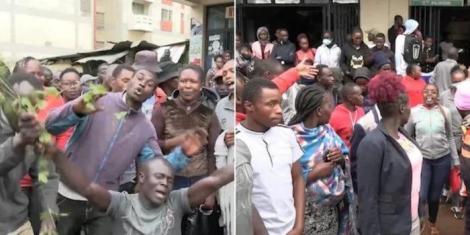 Youth from Uasin Gishu county who had claimed to have been swindled money after applying for jobs in the much-awaited World Cup have reported the matter to the DCI in Eldoret. 
The youths claimed that after paying recruitment agencies their hard-earned money they have not received confirmation of the jobs promised. 
On September 16, the embattled jobseekers submitted their statement to the DCI in regard to the events that took place.
Also Read: Top 5 Highest Paying Marathons in the World
The group of over 4000 youth has been camping for over a week at the said agency's office wanting a refund of their money with no success. 
Elias Kiptoo, who represented the group as they gave their statement to the DCI noted that the accused had also made her statement at the investigator's office. 
"According to what the DCI has told me is that the accused has said she would start refunding the money from Monday, twenty people per day. 
"I was also told that without a receipt no one will be refunded. I recall when we were paying her the money they did not ask for many details, why are they now giving us such conditions?" one of the victims noted. 
Didymus Kiptoo another of the victims, noted that "The agency has been taking us for a ride lying that it would take us to Qatar since February 2022. 
Another victim also added that for them they only wanted to get a refund of their money and return their passports. 
According to the victims, they had been promised jobs such as cleaning, cashier and receptionist jobs in the Middle East countries.  
In a previous response, the accused agency blamed the delays on changes in the World Cup schedule even as the organisation added that those who paid for the jobs will get what was promised to them. 
"The World Cup was shifted to the months of November to December 2022. Those who complain that we have not taken them in the months of August ought to understand the shift," she previously stated. 
The matter is already under investigation, Turbo Deputy County Commissioner Mohammed Mwabudzo noted that they have suspicions about the recruitment process.
Also Read: What Kenya Premier League Stands to Gain After Joining KEPSA