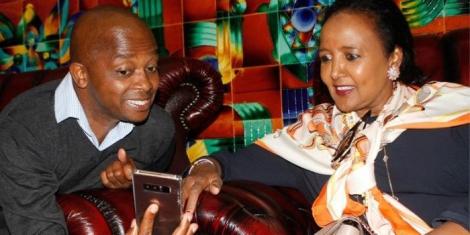 Sports Cabinet Secretary Ambassador Amina Mohamed has accused embattled Football Kenya Federation (FKF) president Nick Mwendwa of breaking into the federation's offices near Kasarani Stadium.  
In a statement dated Tuesday, September 20, Amina denied knowledge of Mwendwa's entry to the premises and the subsequent revival of the defunct FKF.  
"My attention has been drawn to a break-in at the FKF offices at Kasarani which was led by officials who were legally removed following an inspection by the Office of the Registrar," the statement read in part. 
"The decision by the Ministry of Sports, Culture & Heritage on November 11, 2021, has since been upheld by the Ruling of the High Court of Kenya on May 10, 2022," Amina added, reiterating that FKF Transition Committee was still in charge of football activities in the country.  
Also Read: Nick Mwendwa Resumes Duties at Kandanda House
CS Amina further added that in accordance with the ruling by the High Court the FKF's resumption to the office was illegal.
The letter from the sports ministry also cited the reasons that led to the disbursement of FKF, a decision that saw FIFA suspend Kenya from participating in affiliated events.
Amina noted that during the tenure under Mwendwa, FKF misappropriated funds advanced to it by the government, FIFA, CAF, and other stakeholders. 
It was also noted that the federation failed to submit its annual audit reports to the sports registrar and did not adhere to the Sports Act among other laws. 
"FKF also refused to amend the FKF Constitution in line with the Constitution of Kenya 2010, the Sports Act, Sports Registrar Regulations and any other relevant law, was un-procedural in the hiring and sacking of coaches and resisted registering County Sports Associations and stuck to non-registered regional organizations," Part of the Statement read.
The FKF president was accompanied to the offices in Kasarani by his deputy Doris Petra, the CEO, Barry Otieno and other officials together with police officers. 
After touring the Kandanda House premises, Nick addressed the media stating that football activities in the county will return within a month.
Mwendwa and his team found the premises locked resulting in them cutting through the locks at the gate and also having to disable the security mechanism at the doors.
His major focus, he stated, was to make sure that the FIFA imposed on Kenya is lifted prior to the resumption of the game. 
Mwendwa has been out of office for close to a year and his resumption to the office is among the guidelines given by FIFA to lift the suspension it placed on Kenya.
Also Read: Nick Mwenda Gives Official Return Date of Kenyan Football