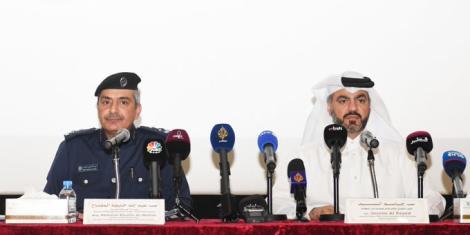 Qatar, through the Ministry of Interior, has announced entry and exit regulations to and from the state during the FIFA World Cup Qatar 2022. 
On September 21, Qatar announced that entry of visitors will be suspended, effective from November 1 until December 23, 2022.
During the briefing, the Director of the Public Relations Department, Brig. Al-Muftah stated that the suspension targets visitors arriving in the country by air, land and marine borders. 
Also Read: Suspended Keita Balde to Miss World Cup 
"The Ministry of Interior calls on all to abide by the laws and regulations issued in this regard and not to violate them to ensure the successful organization of the upcoming football event," part of the statement read. 
It was also noted that these decisions would not affect everyone with an exemption category created.
The people in the exempted categories include: Qatari citizens, residents and GCC citizens holding a Qatari ID card, holders of personal visas and work entry permits and humanitarian cases through the airport based on the approval from the official application platform.  
According to Qatar's Director of the Security Systems Department, Col. Jassim Al Sayed, those that are 'Hayya' cardholders will be allowed to enter the country from November 1, 2022, until December 23, 2022, and they can stay in the country until January 23, 2023.   
He also addressed the humanitarian topic noting that a platform for the said cases would be launched in October, explaining the controls and procedures. 
On the same day, The State of Qatar and the Kingdom of Morocco signed a joint declaration regarding the exchange of information related to the FIFA World Cup. 
The 2022 Qatar World Cup is scheduled to take place from November 21 to December 18.
Also Read: African Teams Set to Make History at the 2022 FIFA World Cup