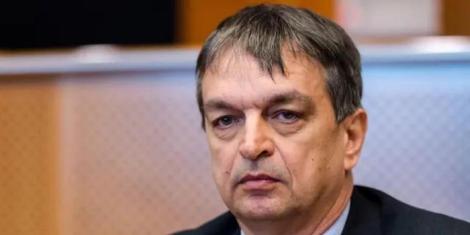 Kenya Premier League has appointed former FIFA Executive Jerome Champagne as director for strategic planning. 
According to a letter dated September 23, the appointment of Jerome was part of the phase one restructuring of KPL. 
"We are pleased to announce the appointment of Jerome Champagne as Director of Kenya Premier League. As Director for Strategic Planning, Jerome's role will see him bring his experience and support to KPL and Member Clubs," part of the statement read. 
Also Read: Kenya Misses Out as Four Tanzanians Are Appointed to CAF
In his acceptance speech as the Strategic Planning Director, Jerome noted that he would help Kenya excel both in Africa and the world. 
"Being the 7th economic powerhouse in Africa (2022) with such an inventive, educated, hard-working population, and so many brilliant athletes in other sports, Kenya should be shining on the African and world football stages.  
"It has been my deep-rooted belief as soon as I first visited the country on behalf of FIFA more than fifteen years ago. Today is a new era, a new environment and I support Taiwo's Strategic plan for KPL which will spearhead the indispensable and so expected rebirth of football in Kenya." Jerome stated. 
KPL Commercial Director, Taiwo Atieno noted that the appointment of Jerome was a result of his football knowledge both locally and internationally. 
"Jerome's appointment needs no introduction. We have made this appointment because He has been involved in World football at the highest level and knows Kenyan football very well. I have spent many hours and days speaking to Jerome about professional football in Kenya and he fully endorses the objectives we have set out in the strategic plan.  
"The good thing about Jerome is he already understands the challenges affecting the Professional Game, he has the experience of working with all stakeholders and like me believes in the potential of the Professional Game here in Kenya. Football is about the Youth and we are committed to working with everyone to bring all corners of the Country together around the game." Taiwo noted.
Jerome Champagne holds dual citizenship of France and Switzerland and has developed a long career in the French diplomatic service. 
From 1997 to1998 he was a Diplomatic Adviser and Chief of Protocol of the local organizing committee of the FIFA World Cup France 98. 
He was also an adviser to the FIFA President, Deputy Secretary General, and Director for International Relations from 1999-2010. 
Jerome acted as a consultant for football to clubs, leagues, FAs and governments before as an executive. He later worked as an executive in French pro club Clermont Foot 63, seeing through their promotion to Ligue 1, for the time in the club's history. 
Also Read: KPL League in Limbo as Clubs Take Stand on Nick Mwendwa, Amina Stand-off