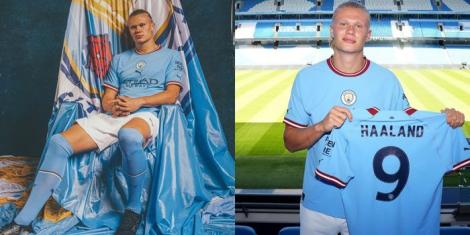 A documentary known as 'Haaland – The Big Decision', shows Haaland's father, Alf Inge, discussing his son's transfer options.  
In the documentary Alf together with Haaland shared the details of his transfer to Manchester City.
Haaland also revealed what influenced him while choosing a club refuting claims that he moves to a club on the basis of a manager.
Also Read: Arsenal Star to Miss World Cup After Undergoing Surgery
"In my opinion, City is the best team on our list. Bayern Munich is number two. We have Real Madrid number three, Paris Saint-Germain number four. We also have some English teams other than City that are pretty good… Liverpool and Chelsea. Then there's Barcelona. They're kind of in the same row.  
"City is a 10 out of 10 in that regard. Bayern Munich gets a point for that, they don't need a number nine. They have their best player as a number nine, but if [Robert] Lewandowski leaves then they don't have anyone else. 
"It would be quite controversial to go to Munich, but if we go through with it, it's one of the best teams. Real Madrid is a five or six. They have Karim Benzema and maybe they will get Mbappe?" Alf noted.  
Haaland also appears in the documentary explaining the reasons why he opted for Manchester City.  
He explains that even though he had never made a decision to transfer to a club based on the manager, he saw playing under Pep Guardiola as a great advantage.  
The 22-year-old Norwegian made the decision to join the Cityzens in April 2022, praising City's state-of-the-art facilities. 
He also revealed after the Man City, Borussia Dortmund Champions League match in 2021, John Stones, Rúben Dias, Ilkay Gundogan, Phil Foden, and Kevin De Bruyne were among 15 people who asked him to join City. 
Also Read: Why Ronaldo's Multi-million Move to Saudi Club was Curtailed