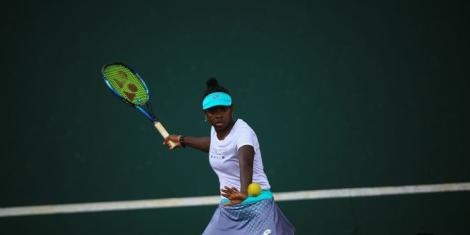 Fast-rising tennis player Angella Okutoyi was beaten by Emily Seibold at the final of the W15 Nairobi tournament on Sunday, November 20, 2022.
Seibold won the match which was played at the Karen Country Club's clay court in straight sets.
The 22-year-old did not give Okutoyi any breathing space from the start of the match to the end.
Also Read: From Orphanage to Tennis Stardom: The Story of Angella Okutoyi
Emily started the match on a high, winning the first set 6-3 before beating Okutoyi 6-2 in the final set to emerge victorious.
Despite the defeat, Tennis Kenya congratulated Okutoyi for making it to the final for the first time.
"Emily Seibold takes the week one title edging out Angela Okutoyi 6-3 6-2 . Congratulations to her.
"Well done Okutoyi. We live to fight another day," part of the statement from the federation read.
The Germany international was awarded a whopping $1,500 (approximately Ksh 1.8 million) for clinching the title.
At the end of the match, Seibold embraced Okutoyi, who looked dejected for losing the tournament's decider.
However, all is not lost for the 2022 Wimbledon Grand slam winner since she has a chance of redeeming herself in the doubles category.
The event, which is part of the International Tennis Federation (ITF) World Tour, attracted players from different corners of the globe.