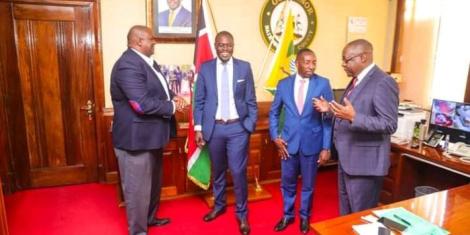 The National Olympic Committee of Kenya (NOC-K) officials on Monday, November 21, held talks with Nairobi County governor Johnson Sakaja over the ongoing construction of the first OlympAfrica center in Kenya.
According to reports, the centre which is being built in Ruai is expected to cost an estimated $350,000,000 (approximately Ksh 40 billion).
Speaking after the meeting with NOC-K officials, Sakaja stated that the facility will help Nairobi host major international competitions.
Also Read: Premier League Club With Best Stadium Deal
"A courtesy call to the Governor of Nairobi County Sakaja Johnson. Top of the agenda is the OlympAfrica center to be set up in Ruai.
"The project is expected to help grow sports not only around Ruai but also Nairobi as a whole.
"Governor Sakaja welcomed the participation of NOC-K in complementing the country's efforts to ensure the city has not only enough but internationally accepted facilities that can host any major sports event," part of the statement from NOC-K read.
The Nairobi County government donated the piece of land for the construction of one of the most expensive sporting facilities in the country.
The ground breaking event for the centre was held in March this year, a ceremony that was graced by NOC-K President Paul Tergat.
The facility will have facilities such as a multi-purpose gym, running track, restaurant, swimming pool and a football pitch.
It will also have hostels, a healthcare centre, spectator stands, basketball, volleyball, handball and tennis courts.
The objective of the center, which will be the first of its kind in East Africa, is to help disadvantaged families in society to achieve their dreams.