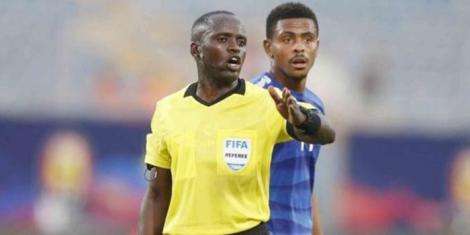 Popular Kenyan referee Peter Waweru on Monday, November 21, disclosed his decision to abandon the goalkeeping role to become a referee was influenced by the slim chances of him playing at an elite level. 
In an interview on NTV, Waweru narrated his journey including the challenges that he has faced as a referee. 
According to the Professor of Pure Mathematics at the Jomo Kenyatta University of Agriculture and Technology (JKUAT), he decided to become a match official since he did not have any hopes of playing at an elite level.
Also Read: Kenya vs South Africa: How the Referee Pays Compare
"I was an excellent goalkeeper. I have a good record especially in conceding. When you look at the international level, goalkeepers are big. You saw Mendy a few minutes ago, they are giants.
"I also felt I was growing older, If you have not yet played for the national team by the age of 24 or 25. I thought that curve may not go very well, so I decided to change.
"I was thinking of venturing into coaching or refereeing, but since I was still physically strong, I decided to go into refereeing," he stated. 
The former goalkeeper also explained why he was locked out of officiating at the 2022 FIFA World Cup that is ongoing in Qatar due to the ban imposed by FIFA. 
"It is difficult to answer, but you know Kenya is still suspended. So, unfortunately, I was not able to travel.
"As far as FIFA is concerned, as a referee, you travel as a Kenyan. You don't travel as an individual. The first thing they say is, 'Kenyan referee Peter Waweru'. So I wouldn't have been able to go, but in the near future God will open new opportunities," ended Waweru.
Waweru, who was listed as a FIFA referee in 2017, began officiating the Kenya Premier League (KPL) matches in 2013.
Some of the high-profile tournaments that Peter has graced in the past include the African Cup of Nations (AFCON) and the FIFA Under 17 World Cup tournament.