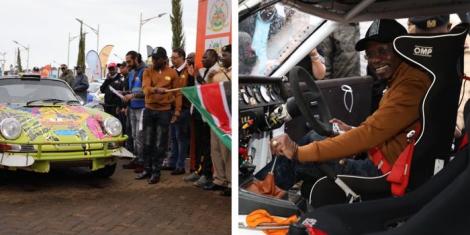 Sports Cabinet Secretary Ababu Namwamba shared a video of him in France, where he was seen flagging off a rally event. 
On his social media page on Friday, January 20, Nawamba was in the company of Patrice Cellario, Monaco's Interior Minister, as they flagged off the 91st Rallye Monte Carlo. 
Namwamba also posted a video addressing Monaco's World Rally Championship (WRC) innovation forum.
Also Read: How Queen Elizabeth Inspired the Birth of Safari Rally 
The sports cs disclosed that he arrived in Monaco on Thursday, January 19, in the company of delegates from Kenya led by Phineas Kimathi, President of Kenya Motorsport Federation and CEO of WRC Safari Rally Project. 
He spoke on introducing high-breed technology and fossil-free fuel for the 2022 WRC season by the FIA, including Kenya's Safari Rally. 
"This new regime of the highbred era and electric vehicles means that rally vehicles are now powered not by fossil fuel but by clean renewable and sustainable energy. This development is truly revolutionary," Namwamba stated in his speech. 
However, the vocal CS posed a few questions to the audience regarding the introduction new regime. 
"Why the new regime of high bred? Why not go clean entirely? Why can't the WRC adopt a 100 percent electric car? Can an electric car perform, optimally racing at a top speed beyond 20km? Is the new regime in sync with the present reality of the world we leave in today?" Namwamba asked. 
He also invited the audience to Kenya for the WRC Safari Rally, which will take place from June 23 to 26. 
'The organisers deliberately rooted this rally to include the magnificent Hells Gate wildlife park, which houses our Ol Karia Geo-Thermal project, so you can interact with this incredible green energy project," Namwamba noted.