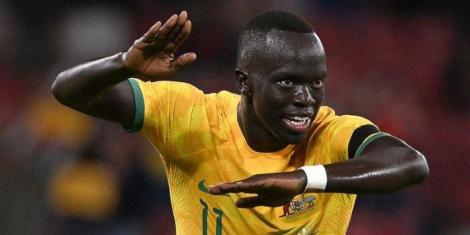 Awer Mabil's journey to the helm of Australian football started at one of the biggest concentration camps in the world - the Kakuma refugee camp in Turkana county.
Born and raised in Kakuma after his family escaped civil war in South Sudan, Mabil never imagined he would one day play professional football, leave alone feature in the prestigious FIFA World Cup tournament.
Like many other Kenyan kids who play the beautiful game on dirt pitches using balls made of plastic bags, Mabil played football just for fun.
Also Read: Uganda Police Advise Arsenal Fans on How to Celebrate After Arrest
However, after moving to Australia in 2006 aged 10, the 27-year-old went on to become a key figure in the Australian' national team, the Socceroos.
A key moment in his rise to stardom happened during the Qatar 2022 World Cup qualifications when he scored a crucial penalty against Peru to book Australia's place at the showpiece event.
The Socceroos went on to have a good run at the World Cup in Qatar before being bundled out by the eventual winners, Argentina, at the Round of 16 with Mabil coming off the bench in the first two group games. 
Nevertheless, Mabil's contribution to Australia's trip to Qatar together with his advocacy for refugee communities in Australia and those living in camps abroad had already won warmed him into the hearts of many. 
Mabil was on Wednesday, January 25, 2023, named the 2023 Young Australian of the Year in a colorful ceremony held in the nation's capital Canberra due to his humanitarian work.
The Sparta Prague winger has a foundation called Barefoot to Boots, which donates football equipment to kids from disadvantaged backgrounds while at the same time providing educational material, medical equipment, and food to refugees, particularly in Africa.
However, Mabil was not available to receive the award due to personal commitments, and his uncle Michael Matiop and his mother Agot Dau Atem received it on his behalf.
Speaking after the crowning moment, Mabil credited football for the incredible achievement.
"It hasn't sung in yet. I guess things happen for a reason. This is so big for my family and also for our football community. I would like to thank my football family because it has allowed me to use this platform to moderate the next generation of Australians and to try to be a good example for them. 
"Football allows me to be myself and also stand for something that is meaningful which can help others," he commented.