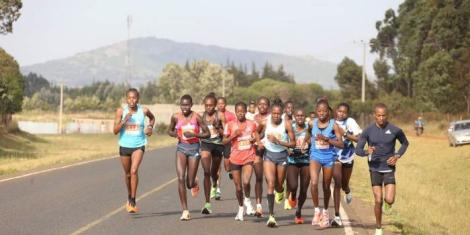 Athletics Kenya (AK) called on athletes to register for the second AK Track and Field Meet scheduled for February 24 and 25, at Nyayo Stadium.
According to a notice by the AK, all senior athletes who seek to participate must register for the event before the competition.
Athletes can register for the event via https(colon)//t.co/LEyIsKq2WF.
Also Read: Chances of Kenyans Breaking Word Records at 2023 World Championships Diminish
"This registration is mandatory for all senior athletes participating during the weekend meet. 
"The registration deadline is on Thursday, February 22, 2023 close of business," AK noted.
As for the under-18 and 20 participating athletes, they will undergo vetting on February 23, a day before teh event kicks off.
"Athletes in these categories are required to carry with them valid identification documents (birth certificate, I.D card or passport) for vetting," Athletics Kenya announced.
Recently AK announced that the meeting was included in the World Athletics Competition Ranking.
The event will also allow athletes to be tested before the global event's trials.
A total of 20 categories will happen in the senior races, with the Under 20 having 10 and the Under 18, having nine.
Also Read: Why Athletes Need to Take Part in the Athletics Kenya Meet