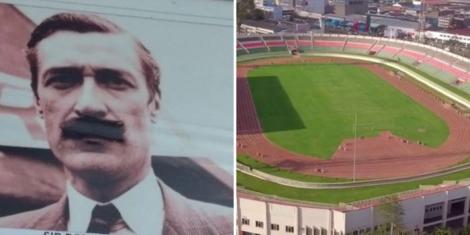 The Nyayo National Stadium is the second biggest sporting arena in Kenya with a capacity of slightly over 35,000.
It is located a walking distance from Nairobi's Central Business District Centre ( CBD), along Mombasa Road.
The multipurpose facility which was built in 1983 during the rule of the late President Daniel Toroitich Arap Moi , has a swimming pool, a standard-size football pitch, an indoor gymnasium and Handball, Basketball and Volleyball courts.
Also Read: Omanyala Sends Appeal to Kenyans Over Nyayo Stadium Race
It has hosted numerous events, including national holidays such as Jamhuri Day and numerous sporting competitions.
Moreover, the state funerals of the second and third presidents of the republic of Kenya (Moi and Mwai Kibaki) were both held at the facility which was initially known as Nairobi West Stadium. 
For most football fans, when the name Nyayo Stadium is mentioned, the memories of Dennis Oliech's late screamer against Cape Verde in 2003 which ensured Kenya booked a ticket to the African Cup of Nations (AFCON) come to their minds. 
All these memories would not have been possible without Derek Erskine - the man who donated the parcel of land for the construction of Nyayo National Stadium.
According to an article published in Daily Nation on Sunday, February 26, 2023, Athletics Kenya (AK) President Jackson Tuwei credits Erskine for the selfish act. 
"Sir Derek Erskine was the first AK chairman, after which he handed over to Musembi Mbathi in 1964. With that, Mbathi became the first indigenous Kenyan to hold the position.
"He finished his term in 1968, and Bartonjo Rotich took over.
"Erskine also donated 23.7 acres of land to Kenya, which the Nyayo National Stadium now occupies," read part of his statement. 
He was a British settler who lived in Kenya in the mid-20th century and even served in the Kenya Legislative Council. 
The settler who died in 1977, is regarded as one of the pioneers of Kenya's rich athletic history alongside the likes of Musembi Mbathi.
Erskine co-founded the Kenya Amateur Athletic Association (KAAA) alongside sir Archier Evans in 1951. KAAA was the first athletic federation in Kenya.
Erskine drafted Kenya's first athletics constitution the same year and made sure it reached the recently renamed International Association of Athletics Federation (IAAF) making it possible for Kenyan runners to compete in major global championships.
Also Read: Reprieve for Athletes as Iten-Based Stadium Uplift Kicks Off